Excelion 2000 Brush cutter
Robust, powerful and lightweight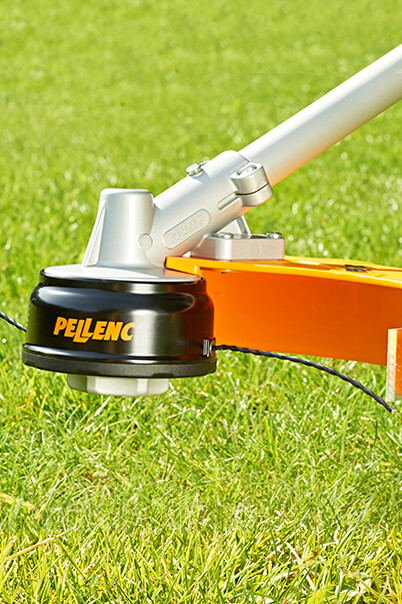 Designed for routine maintenance or intensive strimming, the EXCELION 2000 Professional will meet the expectations of even the most demanding users. This robust, powerful and lightweight brush cutter perfectly eliminates tall, dense grass, woody weeds, brambles and shrubs. Powered by a PaELLENC ULiB 1100 battery, it's quiet, non-polluting operation, and low vibration increases comfort for the user. Several cutting heads can be used on the EXCELION 2000, offering different options for getting the job done.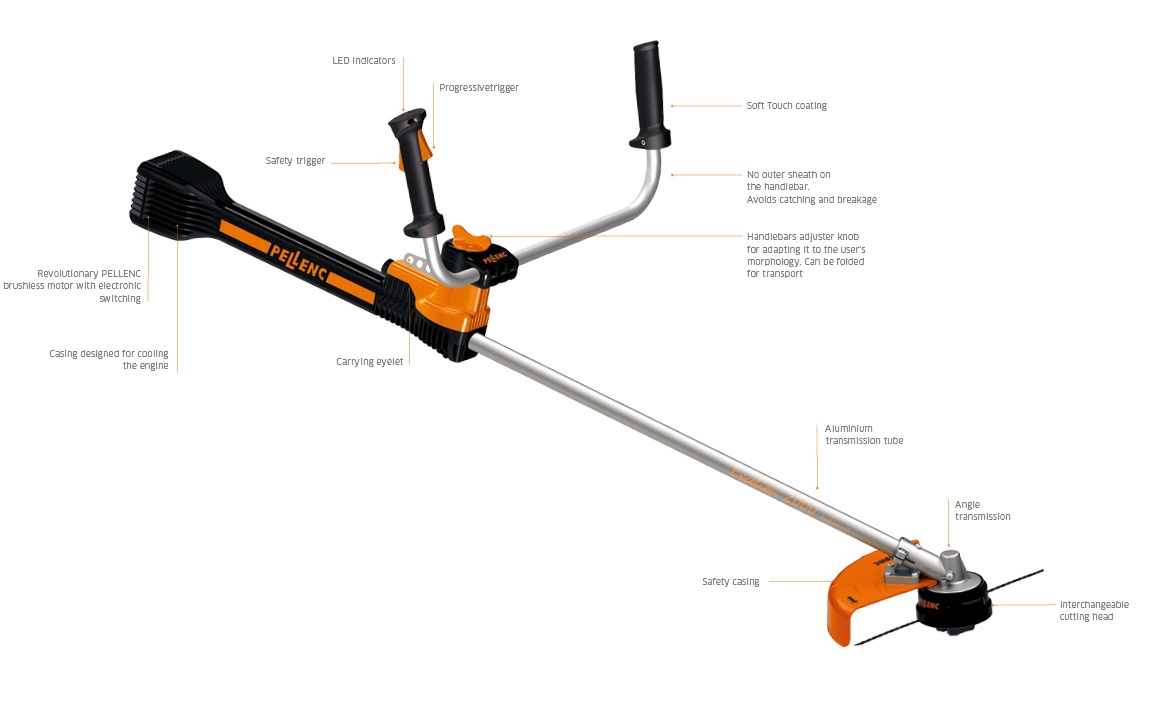 Angle transmission
This PELLENC designed angle transmission in magnesium is very light and durable, and enables perfect balancing of the machine. Specific work aimed at minimising the noise produced by the mechanism was carried out. In addition, the hardware is integrated preventing any possible loss of the fixing screws.
Economy mode
The brush cutter has an Eco mode. It offers the double advantage of prolonged use of the machine as well as working at low speed to limit projections, especially in urban areas.
Cutting heads
5 interchangeable cutting heads have been designed to make them easier to use: Blade Cut, City Cut, Roll Cut, Multi Cut, and Tap Cut. The wire loading systems and the blade attachments have been patented for the Roll Cut, Cut Tap, and Multi Cut cutting heads.
| | COMBUSTION ENGINE POWERED BRUSH-CUTTERDirect emissions + petrol production | EXCELION 2000Direct emissions + electricity production | WITH SOLERIONDirect emissions |
| --- | --- | --- | --- |
| Carbon equivalent/day | 21 kg CO2/day | 438 g CO2/day | 0 g CO2/day |
Data:1kWh EDF corresponds on average to a carbon equivalent of 90g CO2/kWh in France, covering production and the remainder of its life (ADEME-France) — 1 L of SP95 super fuel has a carbon equivalent of 2.5 kg CO2/L in direct emissions and 5.5 kg CO2/L in production + direct emissions — Basis: 6 h working day and 200 annual working days.
 *Specifications are correct at time of print and are subject to change without notice.
Contact Form
Want more information on this product? Complete the enquiry form here to receive more details, or telephone 01295 680120