Held pruner Selion M12
Gentle yet powerful cutting
The SELION M12 pruner is one of a kind, thanks to its weight and its exceptional design, which lends itself to a wide range of potential uses. Selion M12 facilitates the gentle pruning work of shade trees, ornamental trees and robust hedges. It is distinguished by its compactness, fineness and the quality of its cut.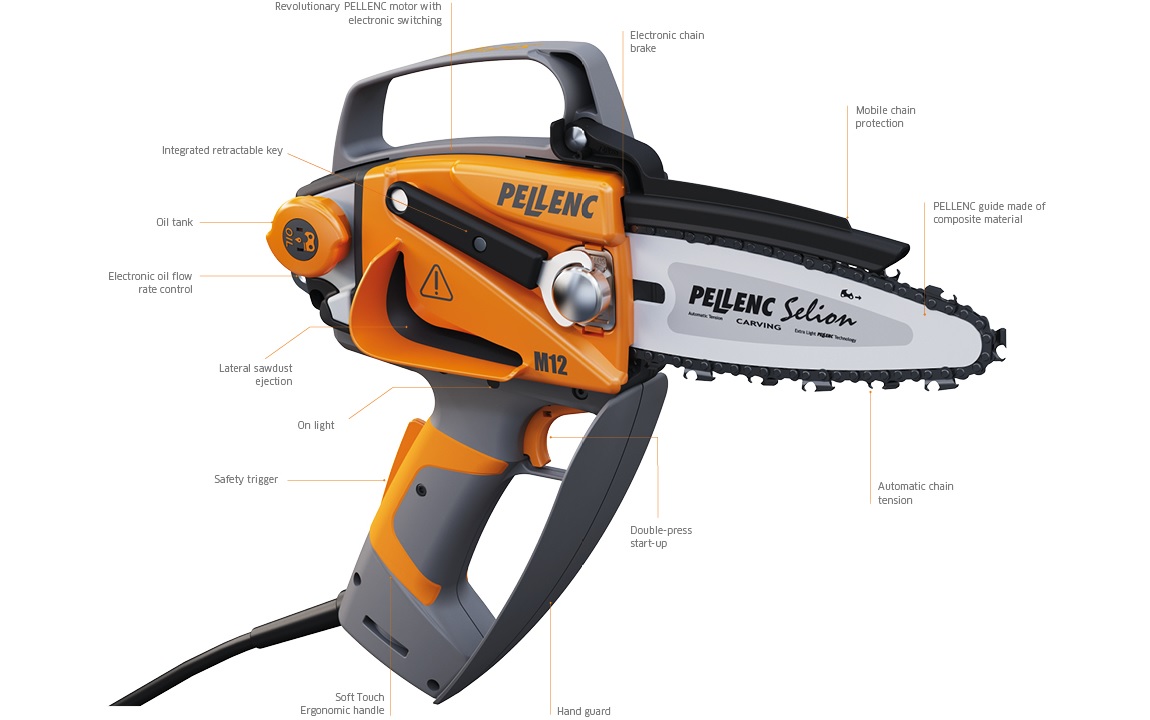 Safety
Safety is paramount and PELLENC has developed 4 innovations to help protect the user:
Kickback sensor with electronic start-up: this device instantly triggers an electric chain brake in the event of a fall or kickback, and is 8 times more sensitive than a combustion engineoperated chainsaw chain brake.
The second safety feature is part of the tool's auto-diagnostic system: SELION checks during first use that the electronic kickback sensor is operational, if this is the case, the machine will operate.
The third safety feature is the double-press start-up trigger: this prevents the accidental start-up of the chainsaw.
The final safety feature is the use of OREGON chains with little kickback: the kickback phenomenon, if it occurs, will be much less violent than that of a traditional chainsaw.



Integrated retractable key

This wrench retightens the chain and gives quick access to the pin and the chain.



Electronic management of oil flow

The system adjusts chain lubrication according the cutting force required.
Technical specifications
 Standard.
TECHNICAL CHARACTERISTICS
SELION M12
Max. power – W
1200
Combustion engine equivalence – cm³
30
Weight – kg
1,7
Engine speed – rpm
5400
Chain speed – m/s
10,3
Guide length – cm/inches
15 / 6''
Oregon chain
Pitch
Type / number of links
¼ '' 25AP / 42E
Pins
Nine ¼'' teeth
Tank capacity – cl
7
Noise level (LPA)* – dB(A)
86
Guaranteed noise level (LWA)* – dB(A)
96
Front handle vibration level (ah)** – m/s²
2,8
Peristaltic pump
Automatic chain tensioner
Integrated retractable key
Electronic chain brake
Carrying case
Battery life*** with ULiB 1100
Up to 2 days
 *Specifications are correct at time of print and are subject to change without notice.