Etesia goal achieved
Hard work pays off for determined gardener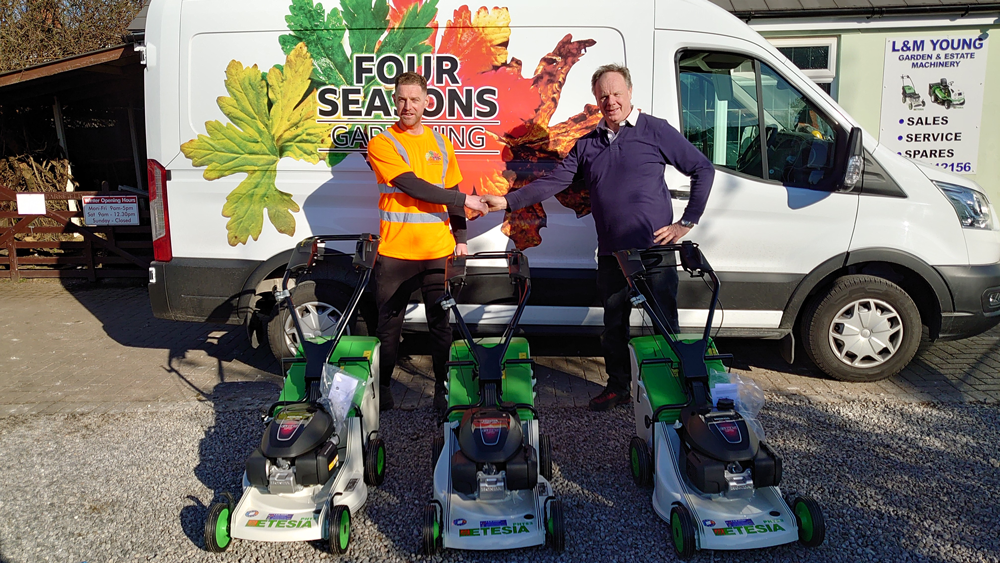 It was a brand of mower he always wanted and now, Lee Norris, owner of Four Seasons Gardening, is the proud owner of four brand new Etesia pedestrian mowers.
Eight years ago, Lee Norris took the decision to start his own business and was equipped only with a lawnmower and an old Ford Fiesta. Fast forward to 2021, and his company now has five members of staff and boasts a glowing reputation throughout South Wales.
Lee pinpoints the success of the company to the advice and criticism he received from his mentor.
"When I was 18 years old, I started working with a landscaping company and I had never pushed a mower in my life," he said. "I went everywhere with the owner and he taught me everything I needed to know. He was an absolute perfectionist, and his work was so precise and neat. If, for example, I left just one leaf on a driveway then he would quickly let me know about it! I often wondered why he gave me a hard time but now I know – he was showing me that it is the little things that go an incredibly long way."
Lee and his team now tend to many private and commercial projects and it is these high standards which has ensured that the company has never lost a contract. These standards demanded by Lee, not only apply to work ethic, but also to the equipment – and there is one brand that he has always had in his sights.
"I first heard of Etesia many years ago when I was first starting out in the industry," he said. "Someone in the local area had one and he used to rave about how good it was and how it could cut and collect in the wet. I saw him using it and from that day I was adamant that one day I was going to get one.
"As the years progressed, and my company grew nothing had changed – I was forever telling the guys that soon we will have a fleet of Etesia mowers to use."
Etesia UK also came from relatively humble beginnings. Although a revolutionary and market-leading brand in France, Etesia entered the UK market in 1995 with only one walk- behind and one ride-on machine. Over the years Etesia UK has grown rapidly and now offers a wide range of products that include a variety of walk-behind, ride-on mowers and the highly regarded Attila range of brush cutters.
With an extensive range of products in the Etesia portfolio, Lee was keen to ensure he made the correct decision.
"I knew that I wanted some Etesia mowers, but I just didn't know which models I needed," he said. "I messaged the Etesia Facebook page and following that I received a call from Stephen Muir (Etesia UK Business Development Manager) and he gave me all the advice I needed. He asked me about what I do, what the mowers would be used for, where they would be used, and we talked through all the different models. We eventually decided on the PRO 46 PHTS3's.
Etesia's renowned PRO 46 pedestrian models are robust, reliable, ergonomic, and easy to use. Lee opted for the single speed self-propelled option, but a push variant (PHE3) is also available. The design of these models has been proven over many years and has an unbeatable record of quality and performance unrivalled in its class. They provide outstanding collection performance, even if the grass is long and wet – something that Etesia has prided itself on over the past 30 years.
Further features include:
Capable of mowing and also of mulching
Individual height of cut adjusters
Collection: grass is only cut once before being sent to the grass box
Internal aerodynamics of the housing and the wide channel eliminates any risk of blockage.
Superb rear wheel traction to offer perfect grip on slopes
Integrated deflector for rear discharge
22mm handlebar design
The latest Honda GCV170 engine
Lee purchased four PRO 46 PHTS3's and believes they have certainly lived up to his expectations.
"I can't praise these machines enough," he said. "There is one particular site we look after, and it has just over 10,000 sq. ft of grass and it is always thick, wet and lush. With our previous mowers we had to always go over it initially, then push it all back and go over them again. However, the first time we put the new Etesia mowers over it, they literally went straight through all the grass and the clippings went directly into the box – all in one go. We no longer have the hassle of stopping and starting or cleaning the decks out. These Etesia mowers are saving us so much time.
"They are smooth and quiet, and they are absolutely solid – which I love," continued Lee. "I also like the height adjusters being at the front and the back because it gives us the opportunity to do bank work; so, if we are on a slope then we can raise the back and drop the front, to level it out to ensure that we get a good cut.
"The customer service from Etesia has been great at all times and I'm just very happy with the purchase."
For further information, please contact Etesia UK on 01295 680120 or visit www.etesia.co.uk.