Etesia is the way for Hard Graft
Hard Graft Garden Services, based in East Lothian, Scotland, believe that two Etesia machines are leading the way when it comes to green space management.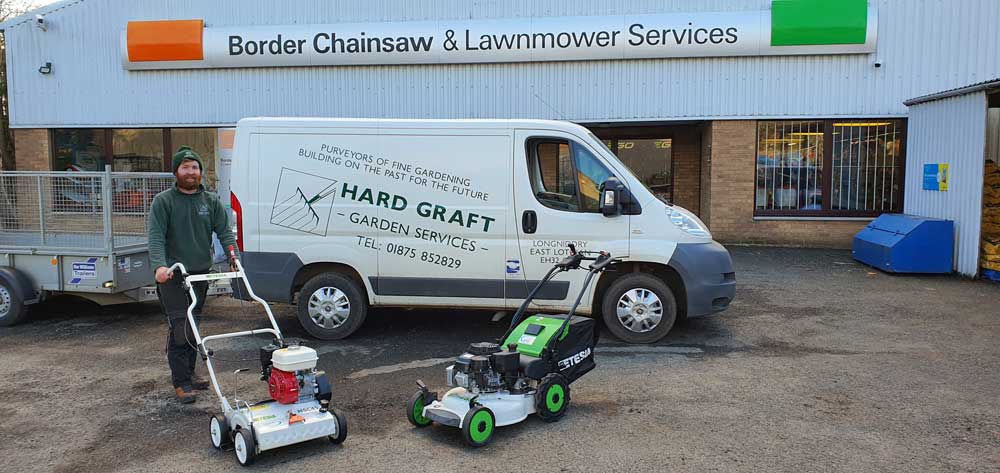 Hard Graft Garden Services is very much a family affair. In 1986 the company was by launched by Neil Stuart who initially started working with his brother Ian and then later with his three sons – Sam, Fraser, and Lewis.
While Neil still does the 'hard graft' behind the scenes with garden visits and admin, the day-to-day operations are overseen by the three brothers.
"We all bring different skills to the company;" said Lewis. "My role is to concentrate on the machinery side of things because I have come from a mechanical background and therefore, I source all of the machinery we use."
In living up to the company name, Hard Graft Garden Services have built a reputation for supporting the local community and providing an unrivalled customer service. Working on a wide range of domestic gardens, the family is renowned for taking great pride in their work, no matter what the size of the project.
"We are very selective when it comes to machinery – it has to be the best," continued Lewis. "I like to keep abreast of all relevant industry media and I read lots of customer reviews and watch numerous product videos. I came across Etesia UK's social media channels and the more I saw, and the more I read, I just got the impression that the machines were something special."
After enquiring, Lewis was put in touch with Scottish based Etesia dealer – Border Chainsaw and Lawnmower Services. A demonstration was arranged, and the brothers were instantly impressed.
"Off the back of the demonstration, we ordered an Etesia Pro 53 LKX2 straight away," Lewis said. "The dealer also told us he was getting a lot more machinery in stock which included an Etesia scarifier. I said I was interested in that and so I initially hired it for a week to see what it was like.
"Within the first couple of hours of using it, all three of us looked at one another and agreed that this was the machine for us."
The Etesia MSC45 is a powered pedestrian scarifier for domestic and professional use on lawns and amenity areas. The machine has a working width of 45cm and comes complete with a Honda GX160 5.5hp engine ensuring that it will be suitable for applications ranging from treating the average lawn to rejuvenating estates and formal grounds – perfectly fitting the bill for Hard Graft Garden Services.
The Etesia MSC45 can be used for regular use or as part of a maintenance programme at different depth settings with the use of interchangeable reels that can be swapped without the use of any tools allowing the spring mounted tine reel to remove thatch and the scarifier unit to take out more of the bulk.
"Our customers have been blown away by what this machine can do, and you can't get much better feedback than a customer saying how outstanding a machine is.
"We get a lot of rain and snow up here in Scotland – so when we do get a good spell you need a good quality machine to help you do the job. We have had plenty of machines in the past that have struggled and have had various mechanical issues but the MSC45 just takes everything in its stride.
"It is also one of the easiest and by far the most comfortable pedestrian scarifier I have ever used," he continued. "The long handlebars enable you to position your body in a better position and it is a lot easier on your back. It is great for storage too because the handlebars fold over. You can just tell that every aspect of this machine has been well thought out – and the same goes for the Etesia Pro 53 LKX2."
Robust, durable, and highly efficient, the Etesia Pro 53 LKX2 is a professional, heavy duty 3 in 1 mower offering exceptional performance on slopes. The mower is powered by a powerful Kawasaki 6.0hp commercial grade engine for strong reliable power. Other features include 5 pre-set cutting heights ranging from 25mm to 85mm, semi-agrarian rear wheels are fitted to improve traction on slopes, and specially shaped handlebars which are fitted to provide the user with maximum comfort.
"We have had several other lawnmowers over the years and the biggest problem we have around these areas, is wet grass," said Lewis. "The majority of the mowers fail to cut or collect in these conditions but when you see the LKX2 in action it is breath-taking. It gives us the confidence knowing that we will not ever have to arrive on site and worry about not being able to cut grass. No matter the thickness, no matter the height, no matter the weather – this tackles everything you throw at it."
"Ultimately, these Etesia machines make us more efficient," concluded Lewis. "The equipment is the highest in class and they make our lives easier. It's peace of mind too, you get support from the dealer, support from the manufacturer and you have the warranty too – Etesia just goes that extra mile for the customer."