Agrovista positively charged with Pellenc deal
Agrovista UK has enjoyed a hugely successful start to life as a Pellenc dealer. The key to success? It's a brand that offers innovative solutions to meet the challenges of modern compliance issues; both environmental and employee safety according to Allan Wright of Agrovista Amenity.
Agrovista UK, is quickly developing into one of Scotland's largest specialist suppliers to the amenity and local authority markets. After going from strength to strength over recent years and significantly expanding its machinery portfolio, the company prides itself on providing only the finest equipment and products and this means that they have to be very selective according to Allan.
"Our ambition is to supply innovative solutions that break industry norms," he said. "As a company, Agrovista is always looking for new products and different ways of working. Pellenc fits this ethos."
Allan's interest in Pellenc equipment was ignited after a conversation with friend and former colleague Stephen Muir, Business Development Manager for Etesia UK (exclusive UK distributors of Pellenc equipment). After attending a demonstration, his mind was made up: "I was blown away, the whole range of equipment was outstanding, and I felt it would be a good match with our business and reflect our intentions moving forward," he said.
However, within Etesia, things were not as straight forward. Stephen had to convince Managing Director Les Malin that taking on a dealer that had no internal service department was a good move. Agrovista did have an agreement with a local authority to undertake repairs but the simple fact was that it had just not been done before. Les originally felt that it would break a long-standing tradition in the sense that Etesia UK and Pellenc dealers must have everything in-house to offer the best after sales service.
After lengthy discussions, an agreement was reached and from May 2019 Agrovista UK was soon distributing the full range of Pellenc battery powered equipment throughout Scotland. From chainsaws, pole saws and hedge cutters to grass strimmers, brushcutters, blowers and mowers, it wasn't long before the company was seeing a huge demand for the products.
"Performance wise, there is no difference from the Pellenc range to a normal two-stroke strimmer or hedge cutter," said Allan. "They will do exactly the same job, but when you look at the costs then there are massive savings when it comes to the Pellenc equipment. Users will save an incredible amount on fuel and it will also mean not having to worry about filling up or carrying lots of fuel in a van.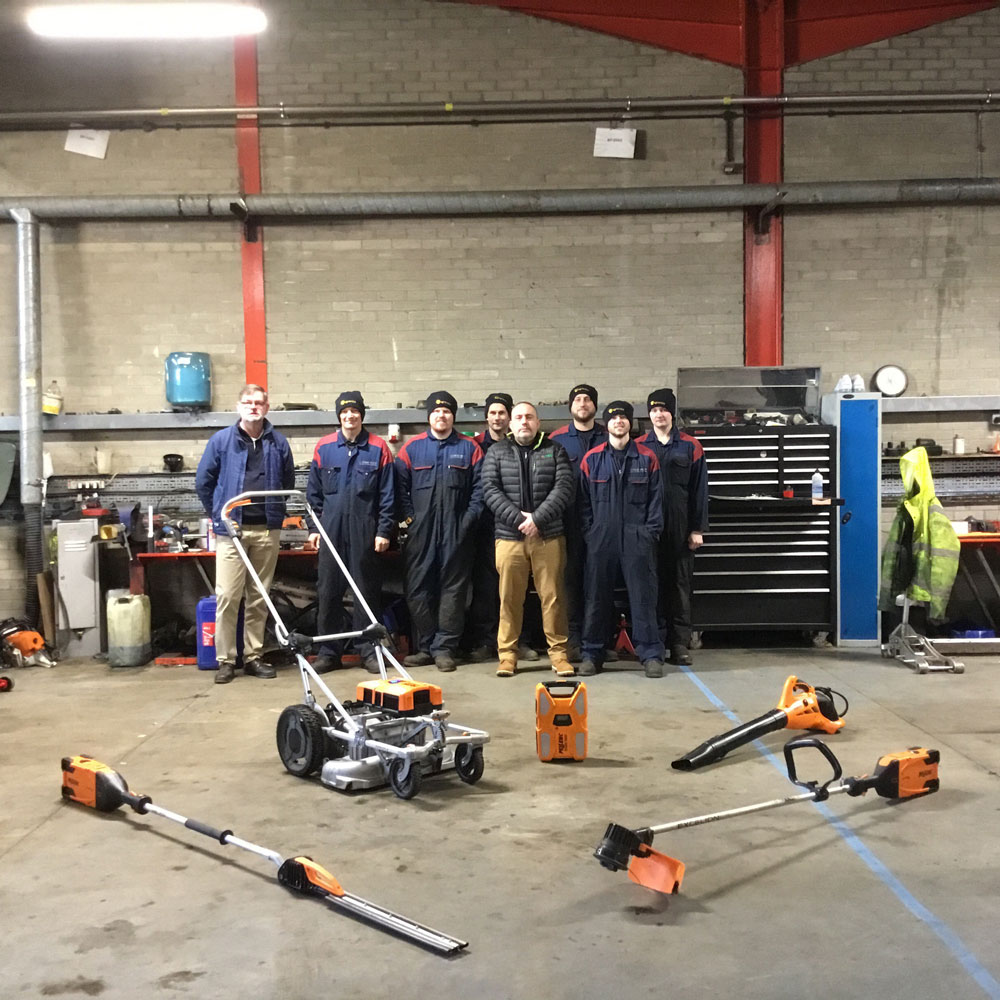 "Performance aside, another huge benefit is that the battery is recyclable," he continued. "I think this is an issue that we need to be more aware of. There are a lot of brands where the batteries can't be recycled and as a dealership, I don't want to be stuck with a large container full of batteries that I can't do anything with. It's bad for the environment and bad for the business. Therefore, the fact that these batteries are recyclable is a huge benefit to myself and my customers."
Allan claims that these kinds of benefits are being largely sought after by local authorities who are looking to make more of an environmentally friendly impact. He has also seen an increasing demand for the Pellenc equipment from landscapers and housing associations.
"People are starting to realise that they are saving money on fuel and that they can store the equipment on site, whereas you can't with petrol-based equipment. I've also had a lot of comments from people saying that they can start earlier in the day due to noise levels being so low – therefore creating less disturbance to those around them."
It is fair to say that Agrovista's success in selling the Pellenc products is a reflection on society in general as the world looks for further innovative ways to reduce environmental harm. There is no doubt that battery technology is on the rise, but it still requires hard work and quite often people need to see it to believe it, as Allan explains.
"We are successful with the Pellenc equipment because we are totally focused on it," he said. "We do a lot of promotions and we work hard at putting the brand in front of new and existing customers – but to be honest it's an obvious choice when they see the technology. The best part for me is turning up to a demonstration and I can tell that some people are still dubious about battery powered products – they think it is going to be a waste of time.
However, as soon as they use the tools or see what the Pellenc equipment is capable of doing, I can see the change in their face taking place."
The Pellenc offering has recently been raised yet another level after Agrovista joined forces with Edinburgh City Council to create an expert Pellenc technical centre. The first of its kind in the UK, this dedicated technical centre is a huge benefit which gives Agrovista the edge over competitors – according to Alan.
"I've been in the industry a long time and I would say that this workshop is the best I've ever come across," he said. "We wanted a dedicated service centre for Pellenc and so we spoke to Edinburgh Council about a joint venture – it seemed to be a good opportunity for both parties."
As a result, staff from Edinburgh Council were flown out to the state-of-the-art Pellenc factory in Pertuis, France, where they received full training at the end of 2019. No expense was spared, and the service centre is now fully operational with six dedicated members of staff.
"The factory trained staff have proved to be invaluable," continued Allan. "In terms of repairing, servicing or checking battery health – it's a huge benefit to our customers. It is such a quick turnaround as well because they are highly familiar with working on Pellenc equipment. I would say it is a huge asset to both us and Etesia UK."
Edinburgh City Council has also benefitted from the arrangement according to Keith Melrose, Workshop Team Leader: "When Allan and Stephen approached us and asked if we wanted to be involved with Pellenc – I jumped at the chance," he said. "It is a privilege to work with this kind of technology and it also generates a good income.
"We get excellent training from Pellenc as well; we have had training in the past with other dealers, but it was never to the level that this has been. The members of staff that went out to the factory in France said it was the best training they have ever received.
"As a team, we have an incredible drive in this workshop and I'm looking forward to continuing our work with Agrovista and Pellenc for many years to come. In my opinion it is great that a local authority is working so closely with a manufacturer."
While Pellenc has proved to be big hit for Agrovista in Scotland, there are some more exciting developments on the horizon. As from next year Agrovista will be distributing the innovative Pellenc Alpha range throughout the whole of the UK.
The Pellenc Alpha range sees two new batteries (P260 and P520) which can be directly fitted to the tools or fitted within a new harness.
Comprising the Helion Alpha hedge trimmers and the Excelion Alpha grass strimmer, two tools which use the latest on-board batteries, it was designed to bring together ergonomics and efficiency. With all of these features, the range has what it takes to convert the last of the professionals who are hesitant to abandon petrol powered tools – according to Allan.
"The Alpha range is a big add-on for us and the fact that we can sell the range anywhere in the UK is great news. What makes the Alpha range an exciting prospect is that the batteries can be fast charged so when the team go for lunch, they can put approximately 80% charge back in the battery – thus ensuring a full day's work.
"It will extend our portfolio and hopefully help us get into other markets such as golf clubs. The Alpha range is ideal for golf clubs because it is so quiet that greenkeepers will be able to use the equipment without disturbing players. Then there is the warranty to consider. You are giving them a tool that has a 4 year battery warranty AND a 3 year warranty on the tool for under £1000 – it makes complete sense and just the fuel savings over that 4 year period are going to become vast.
Allan also revealed that a hugely exciting Etesia battery-powered product will be coming soon, but when pressed for details he remained tight lipped.
"Let's just say that it is a very impressive bit of kit – ground-breaking in fact," he said. "We have secured exclusivity for this product in Scotland and that will further consolidate the relationship we have with Etesia UK.
"This relationship is partly why Agrovista has been so successful with the Pellenc equipment. We work well together, and we get the support and resources needed to be successful.
"It's very exciting times at Agrovista and I believe that Pellenc will continue to play an integral role in future business – not just in Scotland but in the whole of the UK."
As for Les, who was originally sceptical about the idea? Well, he is just pleased that Stephen didn't give up on persuading him otherwise.
"It just goes to show that sometimes you have to make changes that are out of your comfort zone for the long term good of the company. I have to say that the relationship between Agrovista, Edinburgh Council and Pellenc UK has proven to be 100% successful and we look forward to a long and fruitful partnership."
Pellenc is distributed in the UK and Ireland by Etesia UK.