ULTRA LITHIUM BATTERY (ULIB)
10 years of technological expertise
The range of PELLENC ULiB batteries enables professional use of our tools. ULiB batteries allow the user to do a full day's work without having to recharge. PELLENC is the inventor of professional battery operated tools.
* Cost of charging according to kW pricing in France.
** Consumption of 5 litres of fuel-oil per day at a price of 1.50 euros per litre. Data calculated for daily use of the ULiB 700 battery.
Ultra-high capacity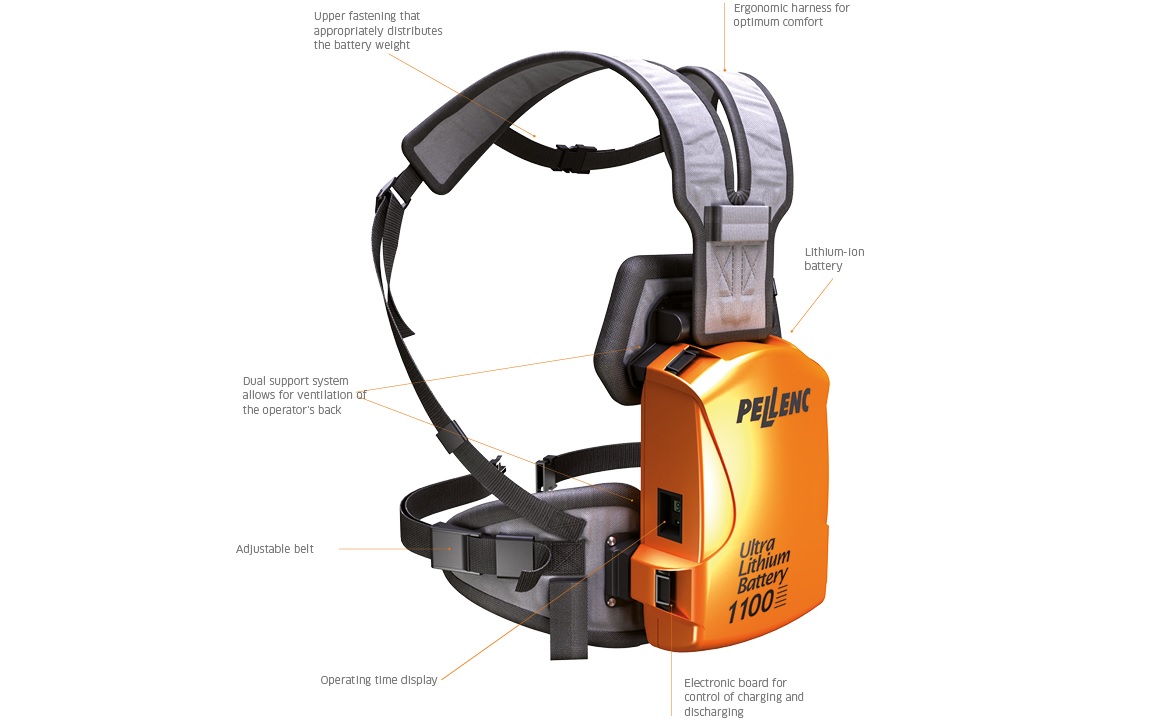 Batteries that are smarter and communicate
The range of PELLENC batteries boasts 10 years of experience in lithium-ion technology. As the world's first manufacturer to introduce this technology in professional hand-held power tools, PELLENC now develops batteries that communicate and are intelligent.
Ultra-high capacity
PELLENC ultra-high capacity batteries have the best weight/energy ratio !
The 1100 Ultra Lithium Battery develops 245 Wh for 1 kg of Li-ion. PELLENC is the world's first manufacturer to use the revolutionary lithium-ion ternary technology (Nickel-Cobalt-Aluminium).
To generate the same amount of energy, a nickel cadmium (Ni Cd) battery would weigh 4.87 kg, a nickel metal hydride (NiMH) battery would weigh 3.48 kg, a lithium iron phosphate battery (technology used for electric vehicles) would weigh 2.43 kg and a lithium-ion manganese battery (technology used for hand-held power tools used by the public) would weigh 2.36 kg!
Technical Specification
150P
250
ALPHA 260
ALPHA 520
ULIB 700
ULIB 1200
ULIB 1500
Weight (without harness) – kg
0.845
1.68
2.5
3.6
4.9
6.3
7.5
Voltage – V
43.2
43.2
43.2
43.2
43.2
43.6
43.6
Capacity – Ah
3
5.8
6
12
17.4
28
35
Stored energy – Wh
130
250
260
520
752
1,221
1,527
Average service life – cycles
800
1,000
800*
800*
800 to 1,200
1,300**
1,300**
Charging time to 100% – hrs
8
5
3 hrs 45 mins (2.2A)
2 hrs 45 mins (3.75A)
6 hrs 30 mins (2.2A)
4 hrs 30 mins(3.75A)
9 (2.2A)
10 (3.75A)
12 (3.75A)
Quick charge to 100%
Quick Charger 7.6A – hrs
–
–
(70%) 30 mins
(100%) 1 hr 45 mins
(70%) 1 hr
(100%) 2 hrs 30 mins
3
(90%) 4 hrs
(100%) 5 hrs 30 mins
(90%) 5 hrs
(100%) 7 hrs
Contact Form
Want more information on this product? Complete the enquiry form here to receive more details, or telephone 01295 680120