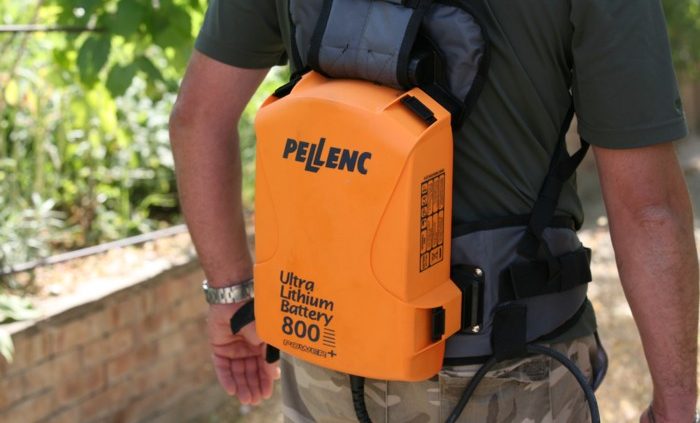 One day's work for less than 10p per day! With a single battery, you can power all Pellenc tools for a record operating range and an unrivalled power for professional electric products.
No matter which model you use, the Ultra Lithium Battery provides constant power and an operating range display, which
indicates the remaining power level in real time: This gives you between half a day and a full day of work depending on the type of tool used.
The Ultra Lithium Battery is equipped with an "intelligent" charging system. The battery can be charged at any time. In addition, if not used for 4 consecutive days, the batteries discharge automatically for optimum storage and an excellent service life. After at least 800 full charge and discharge cycles, the capacity of the battery is still 80% of its initial capacity, which does not reduce the power delivered by the battery.
Supplied with an ergonomic harness, which can be perfectly adjusted to your shape and size, Pellenc batteries have been designed to make your day to day tasks easier and to give you greater operating range and freedom in your work.
The Ultra Lithium Battery also safeguards the environment as lithium-ion is 80% recyclable. The Ultra Lithium Battery is available in several models.
Use of the ultra high capacity technology of the ultra lithium battery guarantees non-polluting, odourless operation with a record operating range.
The profitability Chart (Link to operating cost chart.)
Recommendation for using batteries and tools according to power and operating range*
All Pellenc multifunction ultra lithium batteries can be used in all of our machines. However, we recommend using batteries according to the tools to ensure optimum operating range, power and weight.
*The times stated are based on effective working times, excluding breaks, and with average vegetation. Operating range is influenced by the nature of vegetation in question.
Solerion Solar Charging System
Invention and innovation are passions of Pellenc, which have led the group to much of its success. Throughout their entire
range of machines, they try to offer added comfort and greater productivity in environments where work can be exhausting. The end user is the main focus of all of their development procedures, which drives their engineering teams to optimise the design of tools.
Pellenc are now pleased to offer a new solar charging station (Solerion) for use with all of the tools and a new highly powerful multi-function battery (Poly 5).
Once the Solerion photovoltaic panels (PV) have been installed at the operating site, the Solarium draws the best part of the solar energy converted by the PV panels, thanks to the MPPT load regulator, for the optimum recharge of the battery connected. The MPPT function stands for Maximum Power Point Tracking. This function allows the optimum power drawn to the panels permanently so that the photovoltaic panels are subsequently supplied with the maximum peak power at all times.
https://www.etesia.co.uk/wp-content/uploads/2011/07/pellenc_batteries_top.jpg
467
700
etesiaadmin
https://www.etesia.co.uk/wp-content/uploads/2017/07/etesialogo.png
etesiaadmin
2011-07-26 09:20:28
2011-07-26 09:20:28
Very-high capacity lithium-ion batteries