Etesia is the way for wet grass
Adam Patterson, owner of Patterson's Gardening Services in Northern Ireland, needed a mower that would perform in the wet, and in his opinion, there was only one brand which was comfortably up to the job.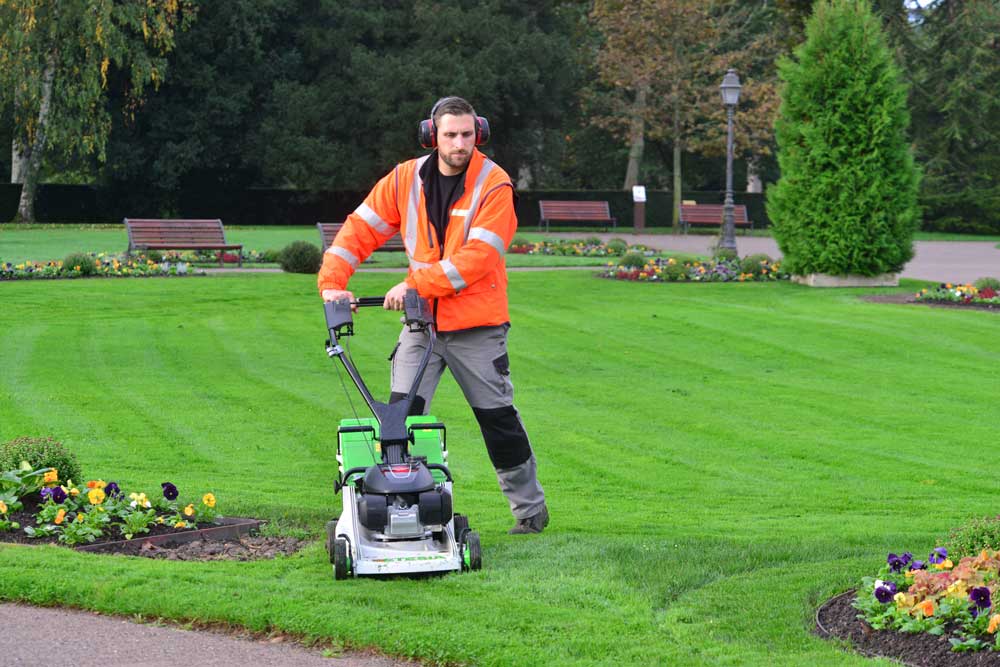 Over the past 30 years, Etesia ride-on and pedestrian mowers have become world renowned for being able to cut and collect – in all ALL weathers. Even in long and wet grass conditions, the mowers provide a quality finish with outstanding collection performance.
"We chose Etesia because it has a reputation for being the best at cutting and collecting wet grass," said Adam. "When it comes to the design and build, Etesia has thought about all the things that other manufacturers simply have not."
Adam set the company up ten years ago after revealing that it was always his ambition: "It was always going to be the career for me – grass cutting was my summer job and I absolutely loved it," he said.
Patterson's Gardening Services, now employs four members of staff, and is highly regarded throughout Lisburn and surrounding areas.
With a glowing reputation to maintain, Adam takes it incredibly seriously when it comes to purchasing new equipment. Therefore, when his pedestrian mowers needed upgrading, he phoned Etesia and had a lengthy conversation with the company to discuss what he was looking for.
He was recommended two models from the PRO 46 range; the PHTS3 – a single speed self-propelled mower and the PHE3 – a push variant.
Following the same concept of the PRO 46 range of pedestrian mowers first launched in the early 1990's, both models feature Xenoy cutting decks for increased strength, shear washer crank protection, individual height of cut adjusters, a new 22mm handlebar design, the latest Honda GCV170 engine and are supplied complete with 80 litre grass box and rear deflector as standard.
One main feature of these models is the 'one cut' principle. This means the grass is only cut once before being sent to the grass box. The benefits of this are reduced power consumption from fast deck material ejection and secondly, as it is not multi chopped, the grass does not stick to the cutting deck in the same way as multi-cut grass does prevent unwanted blockages. The grass box is manufactured out of the same Xenoy compound as the cutting deck for maximum strength and comes complete with fill indicator.
Adam ended up buying two of each model from his local dealer RD Mechanical and hasn't looked back since.
"They have an excellent build quality and the weight of them really appealed to me. They are just perfect for all our small amenity lawns. However, we find ourselves using them on the bigger lawns too, especially if it has been raining or there is a lot of dew. In these circumstances the Etesia's are so much quicker because you are not stopping to unclog the cute after every stripe.
"The PRO 46's are very reliable and user friendly," he continued. "From a personal point of view, I really like the way the handles bend slightly down as well – it feels more natural to work with as opposed to your hands being in an upright position.
"We have received an excellent service from our dealer RD Mechanical throughout the process – from advising the correct model, to the delivery, so It's safe to say I am one happy customer."