Pellenc maintains Scotland's most exotic garden
The team responsible for maintaining the incredible Logan Botanic Garden have noticed several benefits since investing in a wide-range of Pellenc battery-powered equipment.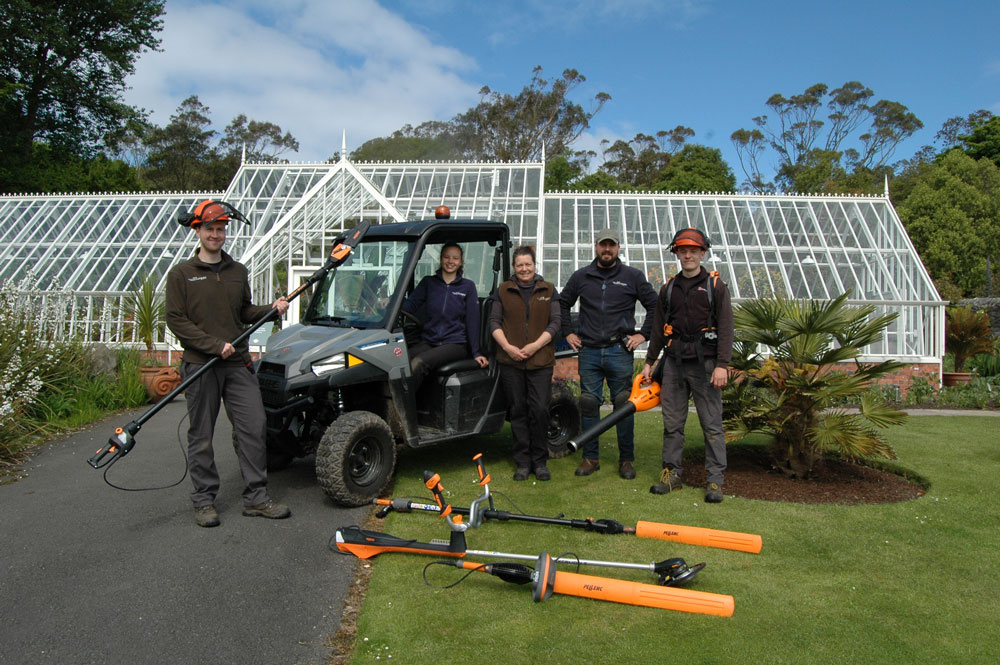 Regarded as Scotland's most exotic garden, Logan Botanic Garden is located at the south-western tip of Scotland on the Rhins of Galloway. The Garden is warmed by the Gulf Stream which enables plants from Australia, New Zealand, South and Central America, Mediterranean and Southern Africa to thrive.
Garden Supervisor Colin Belton has been working at the Garden for 23 years and there are many reasons as to why he has stayed in the job for this amount of time.
"It is a great part of the world to be in," he said. "It is very quiet, laid back, no rush to life and I'm part of a great team. We all work together as one unit."
Colin revealed that plans were already in place to reduce carbon emissions after being encouraged to do so by the government. In fact, Logan Botanic Garden unveiled the first carbon neutral glasshouse in the UK. This was five years ago, and Colin's attentions then turned to battery-powered equipment as an alternative to petrol machinery.
"I first became aware of the Pellenc equipment about 20 years ago," he said. "I was at a horticultural show, and I saw the Pellenc chainsaw in action. I thought it was modern and different and so I took a brochure away with me. I still have that brochure to this day!
"A lot of other companies started bringing out battery-powered equipment, but to my knowledge, Pellenc has been around the longest and it was the one brand that really stuck with me."
A forerunner when it comes to lithium-ion technology, Pellenc has established itself as the number one choice in the 'zero emission' professional power tools market for the maintenance of urban and green-spaces.
Light, odourless, noise-free, with no starting problems and enough power to enable professional users to work for a full day on a single charge, it's no wonder more and more professional users are turning to Pellenc. It is an attractive alternative to those who have, for several years, been relying on fuel-based machinery.
Colin arranged for a demonstration of Pellenc equipment to be carried out at the Garden and he now boasts a fleet consisting of Airion blowers, Helion compact hedge-cutters as well as the Helion telescopic model, an Excelion strimmer and Excelion brushcutter, and the Selion T220/300 telescopic polesaw as well as the Selion C21 HD pruner – which were all supplied by Allan Wright of Agrovista Amenity.
"At the demonstration I think the light weight and the quietness impressed everyone the most," said Colin. "We no longer have to endure an engine tucked under the ear droning away. Generally, it felt as though the petrol machinery was starting to take its toll on all of us.
The Pellenc equipment has certainly made our lives easier and safer.
"Take the Helion telescopic hedge cutter for example. The Helion enables us to reach the full height of the hedges, so we no longer have the hassle of assembling, moving, or relevelling our scaffolding tower. It's a huge time saver and we can cut those hedges in half a day rather than a full day now.
"In fact, we can complete a lot of jobs much more quickly now and this is because we can work without disturbing our visitors. Previously we would get complaints about the noise from the petrol machines, and so we would be limited to a two-hour window to carry out jobs like hedge-cutting and strimming, before opening to the public. We can use the Pellenc equipment all day now because it is so quiet.
"There are just so many benefits to using this equipment," continued Colin. "The Airion blowers, for example, have a huge advantage over the old petrol ones. Many of our paths are gravel based and trying to blow the leaves without taking the gravel with it was impossible with our old petrol blowers. However, the Pellenc Airion blowers have that low setting which is just enough to move the leaves along without interfering with the gravel.
"Then we have Excelion brushcutter with the City Cut head, and this enables us to work in the Garden without fear of debris flying towards visitors. In the past we have had to be extra careful and wait until no visitors were around."
All the Pellenc tools at Logan Botanic Garden are powered by two ULiB 1500 batteries – the most powerful in the Pellenc range.
"We start work at 8am and we finish at 4.30pm and we get a whole day's use out of them without the batteries being anywhere near flat. Some of the lighter pieces of kit we have run for days.
"To be honest, I think that initially, we were all sceptical as to whether the Pellenc products would be as powerful as a petrol engine – but they are."
Pellenc is distributed exclusively in the UK by Etesia UK.