Rasion Easy Mower
The variable speed mower for effortless mowing.
The variable speed model of this professional range of mowers surprises by its design as much as by its technicality. It is the lightest professional mower in its class, has a cutting width of 60 cm and is equipped with a double blade. RASION SMART was developed with the sole aim of improving the working conditions of its users.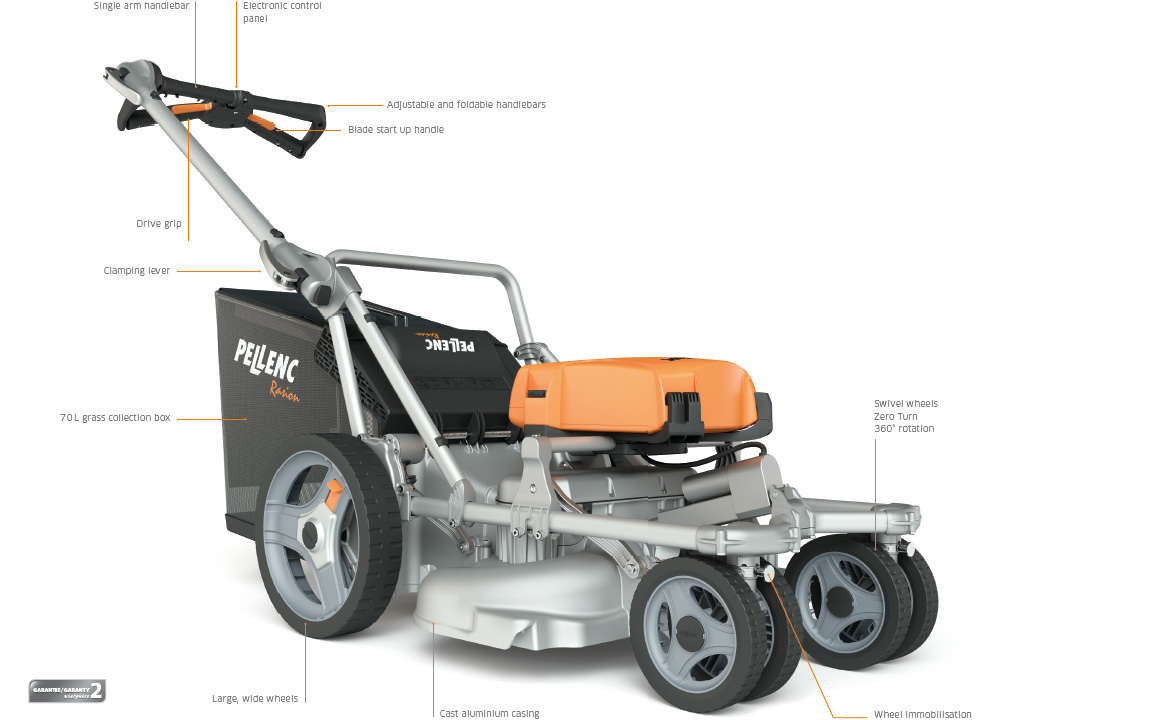 Cutting blades

The dual blades make it possible to cut the lawn more precisely and optimise the mowing time. They offer even and flawless mowing.




Single arm handlebar

Allows quick and easy access to the collection box.



LCD screen

Electronic speed setting of the blades from 3,000 to 5,000 rpm.
Electronically controlled five forward speeds: 1 to 5 km/h.
Electrical adjustment of the cutting height: 25 to 75 mm.
All settings can be adjusted while mowing.




Zero Turn

With its two rear motors and front swivels wheels, this function eliminates unnecessary manoeuvres.



Automatic jam clearing

Turns in the reverse direction to remove the grass blocking the way.




Grass sensor

Two optical sensors in the front of the mower detect the height of the grass and automatically adjusts the rotational speed of the blades. The vegetation sensor optimises use of the battery's energy during rotation of the blades.
Models
| RASION SMART | |
| --- | --- |
| Overall Dimensions when unfolded L x W x H – cm | 114 x 155 x 62 |
| Overall Dimensions when folded L x W x H – cm | 60 x 88 x 62 |
| Cutting width | 60 |
| Weight (with box and battery) – kg | 37,5 |
| Weight (with box and without battery) – kg | 31,5 |
| Weight (without box and without battery) – kg | 29 |
| Electrically adjusted cutting height mm (min/max), 6 positions | 25/75 |
| Max. power | 960 W |
| Blade speed: 3 speeds | 3000 to 5000 |
| Ejection | Rear |
| Mulching kit | Option |
| Collection bin – L | 70 |
| Box type | Flexible |
| Type of casing | Cast aluminium |
| Mower sealing | IP54 |
| Autonomy in surface area with an average battery life of 3 km/h – m² | 3600 (Maintenance mowing) |
| Handling (Zero Turn) | YES |
| PELLENC Brushless motor | YES |
| Safety in the event of mechanical blade shock | YES |
| Rollover and cleaning safety mechanism (deactivation of the blades) | YES |
| Folding handlebar included in the footprint of the mower | YES |
| Vertical position (storage or cleaning) | YES |
| Reverse function | YES |
| Engine brake on the handle | YES |
| Unlocking of the wheels | YES |
| Diameter of front wheels – mm | 178 (7') |
| Diameter of rear wheels – mm | 305 (12') |
| Electronic adjustment of the cutting height | 6 positions |
| Progressive forward speed | 1 to 5 km/h |
Accessories & consumables
Mulching kit
For a perfect cut, without collection.
ref.: 120271
Collecting bin
The 70 L collection box holds more than 10 kg of finely cut grass.
ref.: 120270
Blades and fasteners Kit
Set of high strength steel blades and anti-shock safety attachments.
ref.: 120269
Contact Form
Want more information on this product? Complete the enquiry form here to receive more details, or telephone 01295 680120