Two new Pellenc dealers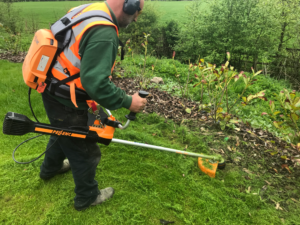 Pellenc UK has welcomed Terra Firma and Greenlay to its ever-growing dealership network; both of which will be distributing the full range of Pellenc professional battery powered equipment.
Terra Firma, part of Agrovista UK, is quickly developing into one of Scotland's largest specialist suppliers to the amenity and local authority markets. After going from strength to strength over recent years and significantly expanding its machinery portfolio, the company prides itself on providing only the finest equipment and products and this means that they have to be very selective according to sales advisor Allan Wright.
"We have no ambitions to become a normal grass machinery company," he said. "It is for this reason that we are expanding the range of specialist equipment we offer and Pellenc is a perfect addition."
The extensive Pellenc product range features an impressive portfolio – from chainsaws, pole saws and hedge cutters to grass strimmers, brushcutters, blowers and mowers and Allan claims that his mind was instantly made up as soon as he saw the products being demonstrated.
"We organised a few demonstrations and it was obvious that these were the kind of products that would be incredibly hard to not take on-board especially with the green credentials and the low vibration and noise levels.
"These features are a massive benefit, not just to the local authorities, but to everyone who operates them – they are so quiet you can actually have a conversation while using the machine. Performance wise, there is no difference from the Pellenc range to a normal two-stroke strimmer or hedge cutter. They will do exactly the same job, but when you look at the costs then there are massive savings when it comes to the Pellenc equipment. Users will save an incredible amount on fuel and it will also mean not having to worry about filling up or carrying lots of fuel in a van."
Greenlay, based in Cramlington, Northumberland has been serving both the professional and domestic turf markets since 1971. Boasting a 2000sq ft showroom displaying a huge range of equipment, the company strives to ensure that the customer gets the best machine for the job at all times and sales administrator Harry Pattinson is delighted to have added Pellenc to the collection.
"We never thought the opportunity would come about so we were delighted when we were approached by Pellenc," he said.
"Pellenc is a leading brand in the battery powered range and it is the only battery that can last as long as it does in the professional range. Plus, with a three-year warranty on the equipment I just know that it will sit well with our customers.
"It has so many benefits and I particularly like the fact that the battery can be transferred from different machines – so you can use it in a strimmer as well as a blower or a hedge cutter. The power on the equipment is instantaneous and the performance is very similar to two stroke. Yes, the price might be slightly higher but because you are not using fuel you will find that it does pay for itself very quickly.
"Pellenc is aimed at the professional market which we want to continue to grow in, so it absolutely suits the quality product range that we already offer here at Greenlay."
With immediate effect the Pellenc range from Terra Firma is available in the areas of central Scotland, the Scottish borders and the west coast; while Greenlay is distributing the Pellenc equipment to Northumberland, Tyne & Wear, Co Durham and Teeside.