Baggleys announced as Pellenc dealer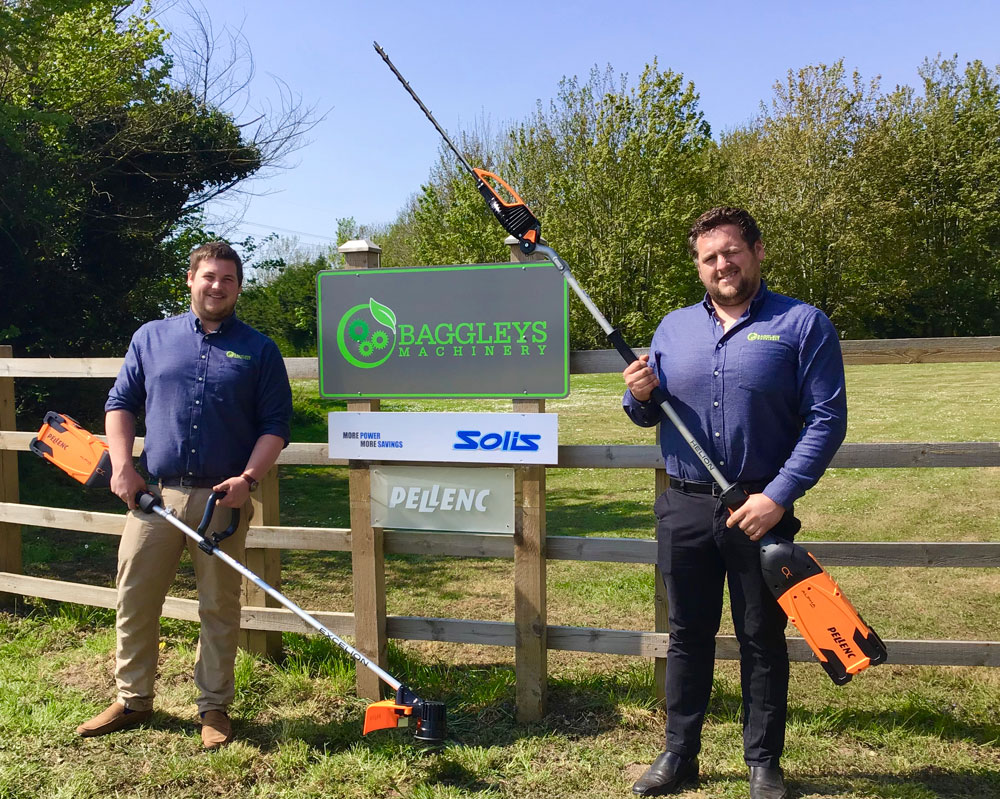 Baggleys Machinery have recently been appointed as an authorised dealer for the full range of Pellenc professional battery powered equipment.
Baggleys Machinery is a family run business based in Norfolk owned by Solly Mansfield. Solly's wife Fiona and their two sons, Toby and Oliver, are also integral to the company. He started the business working from home in 2001 and over recent years the Mansfield family have seen it significantly grow.
"It's one of those stories where you start in the garden shed and work your way up," said Solly.
The company has indeed reached new heights. After its humble beginnings, Baggleys Machinery now occupies a six-acre site and has eight members of staff. The success of the company has been based on providing their customers with quality products and a first-class aftersales service.
No stranger to working with leading brands, Solly is particularly pleased after adding the Pellenc range to the company's extensive portfolio of products.
"I had been interested in Pellenc equipment for quite a while," he said. "I actually had a hands-on demonstration a long time ago when Pellenc was first introduced into the country. I was instantly impressed but unfortunately at that time I didn't have the customer base that I have now and was not in a position to take it on. So now I'm really pleased to finally be offering Pellenc to our customers."
Over recent years, Pellenc has gained market recognition by offering a unique range of 'zero emission' battery-powered tools, thanks to the development of Lithium-ion ultra-high performance batteries.
This exclusive Pellenc technology allows for a drastic reduction in the production of greenhouse gases and noise pollution. It is also comfortable for users, meets new sustainable development demands and offers excellent economic profitability. With a record capacity of up to one day's use on a single charge, these quality products are a perfect fit for Baggleys.
"The battery run time on the Pellenc equipment far exceeds anything else on the market," continued Solly. "The feedback from customers has already been incredible and many of them have commented on the fact that they are now able to start their jobs earlier. They can now start to cut a hedge or strim straight away, whereas with their petrol machines they wouldn't be able to use it, say at 7am, due to the noise disturbance.
"The other thing is that a lot of my customers who were previously operating small handheld petrol hedge trimmers were starting to get a bit queasy from the exhaust fumes whereas the Pellenc machines are clean and healthy to use."
Baggleys Machinery will distributing the complete Pellenc range which includes chainsaws, blowers, hedge cutters, pole saws, road sweepers, grass strimmers and mowers, and Solly has already seen a demand for the products from the likes of local authorities, hospitals, universities and contractors.
It is a sign of the times according to Solly as the industry continues to embrace battery powered equipment. Furthermore, he believes that once people understand just how cost effective they can be, then even more people will be turning to the innovative and environmentally friendly technology.
"The big hurdle for people to get over is the initial cost," he said. "But what they do not take into consideration is the petrol that is being bought every week to run their two-stoke machines. With the battery powered equipment, you do not have that expense – ever.
"I think I'm right in saying that the break-even point with the Pellenc equipment is 18 months. So, if people can see past that initial cost then they will realise that the Pellenc equipment is far more cost effective long-term – because there are no running costs."
Pellenc is exclusively distributed in the UK and Ireland by Etesia UK.