Etesia Attila AH75 the solution to excessive first cuts
With the impending difficulty some green space professionals will soon be experiencing from a delayed first cut, many are turning to the Etesia Attila AH75 brushcutter as a solution.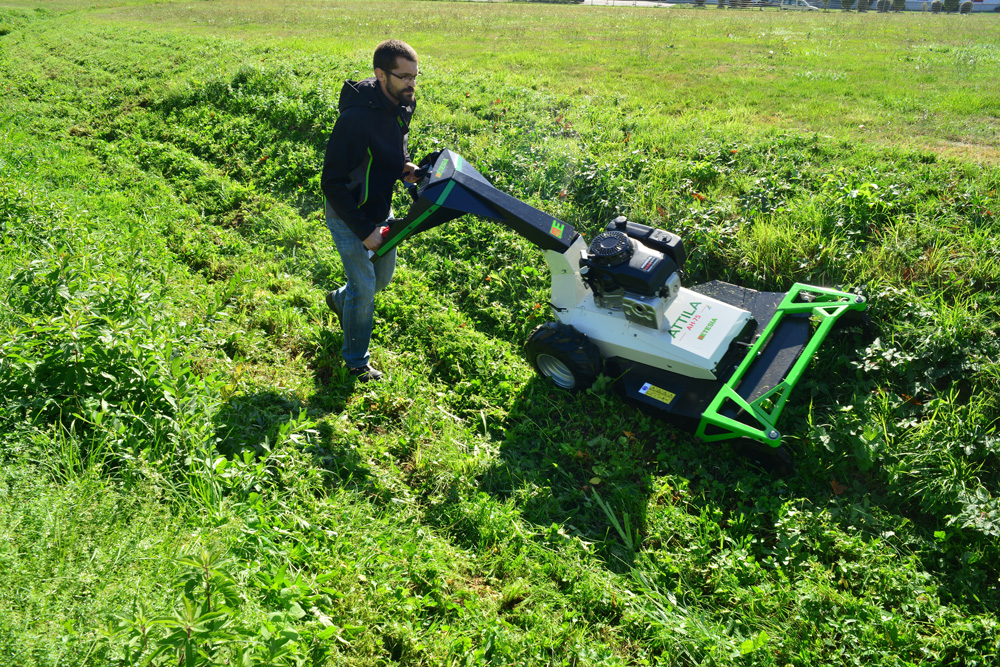 The Etesia Attila AH75 brushcutter offers ride-on performance in a pedestrian machine and has been designed to work in the toughest of conditions. This powerful workhorse effectively deals with clearing vegetation from a wide variety of sites – long grass, weeds, bracken and brambles on woodland paths or orchards. Ease of operation and manoeuvrability ensure total efficiency and high output.
At a time when many will be facing excessive first cuts, green space professionals – particularly those working for local authorities and landscape contractors, will find the Etesia Attila AH75 a cost-effective solution. At just £3,200 plus VAT, this reliable and powerful machine has been proven to outperform many of its counterparts at a fraction of the price.
The Attila AH75 is powered by the Honda GXV 390 engine and fitted with a T3 transmission combining differential lock and front wheel locking system with a simple height of cut adjustment from the new handle bar design which allows movement into offset for use on slopes.
Efficiency
Heavy-duty brush cutting (up to Ø30)
Mowing on the most difficult slopes (up to 20°) thanks to the hydraulic transmission with a differential lock
Two idlers that can be locked without a tool for improved stability on slopes
Possibility to fit two wider rear wheels as an option
Cutting height adjustment with three positions from the new handle bar design
Handle offset control from the operating position with three working positions and one transport position
Comfort
High manoeuvrability thanks to the hydraulic transmission – three forward speeds and one reverse speed
Differential lock can be engaged without interrupting movement
All operating controls are available from the operating position for convenience and safety
Central handle bar that allows easier access to low controls (parking brake, forward transmission bypass, engine starter), with full protection for cables
Parking brake for safe immobilisation
Anti-vibration rubber handles
Ruggedness
Machine can be moved into vertical position to gain access to the cutter blade for maintenance and cleaning
Maintenance-free hydrostatic transmission with forced-air cooling, integrated expansion vessel
Flail blades: reversible, protect the blade transmission system, low maintenance costs
Rugged and reliable engine: Engine crank shaft mounted on bearings.
A full two-year commercial warranty comes as standard.