Etesia Buffalo – Power in Paradise
After two unsuccessful mowers, landowner Dr Ueli Zellweger has finally found the ride-on mower he was looking for to help maintain the 'most beautiful spot on earth.'
Dr Ueli Zellweger, a retired veterinary physician, found his slice of paradise in 1995 when he and his wife moved from Switzerland to a beautiful location in Exeter. Their magnificent house is surrounded by 15 acres of land which includes paddocks, a horse riding arena and a huge man-made lake, which were created by Ueli and his wife.
With so many acres of green space, it is vital that Ueli has only the finest turf maintenance machinery. However, finding a mower efficient enough to deal with the slopes, verges and tough terrain has not been straightforward – that was until he came across the Etesia Buffalo 124 HVHPX 4WD machine.
"I had two previous ride-on mowers before the Buffalo and unfortunately they just were not good enough," said Ueli. "The first one would always clog up with grass cuttings and I would have to stop every so often to clear it. The second one did not cope too well with slopes and I kept getting stuck.
"I asked my local garden machinery dealer, Tom Williams, to give me the best and most powerful machine he had. He was quick to recommend the Etesia Buffalo 124 and after I saw it demonstrated, it didn't take me long to make a decision."
If it was power that Ueli was looking for then Tom Williams certainly gave him the correct advice. Fitted with a 124-cm overlapping cutting deck and a powerful 23-hp two-cylinder Briggs and Stratton engine with catalytic converter as standard, the Etesia Buffalo has a high hourly mowing output of up to 15,000 sq m. per hour, and an unequalled weight-to-power ratio.
The efficiency of the cutting system allows the operator to work faster (up to 12 km/h) and to improve productivity and output – the Buffalo excels even in wet conditions. Furthermore, this unique ride-on mower is fitted with a built-in grass collector with a capacity of 600 litres, and the hydraulic emptying system is controlled from the driver's seat up to 1.8 metres.
Ueli believes he has finally found a mower he can rely on.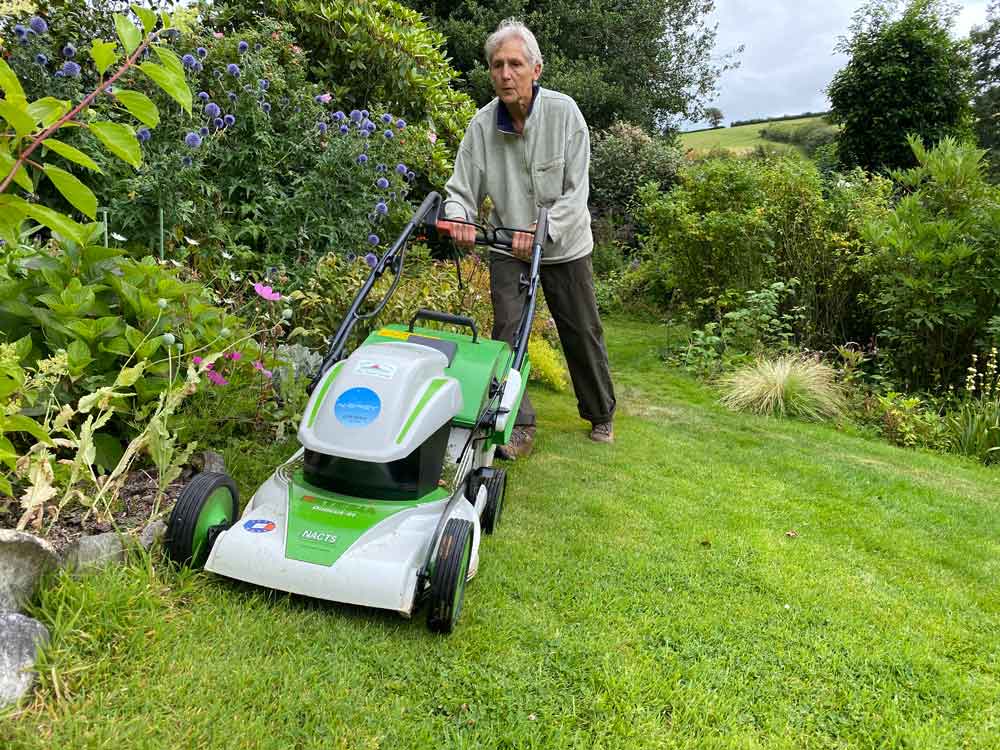 "We have the most beautiful spot on earth here and my wife has designed all of the gardens, so we are deeply passionate about our land. We spend a lot of time in the gardens and therefore it is essential to have the correct equipment in place to help keep it maintained. This Etesia Buffalo is the one.
"It is incredibly powerful, the most powerful machine I have ever had – it glides over uneven ground and slopes effortlessly. There is one area on the estate – a field next to the house – and it consists of very dense, coarse grass. The Buffalo cuts it brilliantly. Every other mower I have used in the past had failed. Whether it is short grass, long grass, rough grass, wet grass – it cuts absolutely everything, and the quality of cut is always fantastic. It is also good to have the peace of mind that I am no longer going to get stuck on a slope.
"I like the versatility of being able to change the height of cut depending on the situation and the operator controls are very user friendly. There are two levers on the right-hand side – one is for emptying the grass box and one is for raising it. Everything on this machine is so easy to operate.
"It is just a joy to use," continued Ueli. "I put my earphones in and listen to my music while I cut with the Buffalo – I don't see it as work because it is so enjoyable."
To complement Ueli's Buffalo, he and his wife also rely on the Etesia Duocut Battery NACTS pedestrian mower. This battery-powered walk-behind mower is environmentally responsible, compact, rugged and efficient. It can easily handle collection, mulching and mowing without the need of any additional attachments.
"There are smaller areas that you can't get to with the ride-on mower and this is where the Duocut comes in – it is fantastic at doing the tight edges or small pathways. It is powerful and light, smooth and silent," said Ueli.
You can view a video of this article by visiting https://youtu.be/6fFqwT5tHr8