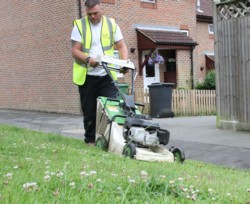 The upkeep of amenity turf within hundreds of housing estates up and down the country is a huge source of business for contractors. Reliability of mowing equipment is essential for this work. A contractor based at Battle in East Sussex, the FGS Group, chose the Etesia Pro 46 to handle the month-by-month cutting routine as part of its work for the Amicus Horizon housing association in the Hastings area.
FGS, which was set up 22 years ago, specialises in landscaping and grounds maintenance in the south east of England. Social housing like that provided by Sittingbourne-based Amicus is vital part of its service. It bought four of the rotary walk-behinds from another Sussex firm, South East Groundcare of Polegate, East Sussex. These are now in their second season of work trimming the amenity grass areas in over 30 estates and FGS has twelve operatives using them.
According to Jenny Waterfield, Contract Manager at FGS, the principal requirement for the grass cutting aspect of the Amicus estates work is that it has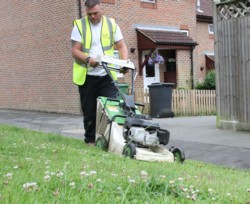 to be cut and collect. For so much of this type of amenity grass upkeep 'cut and fly' is often all that is wanted, but increasingly housing associations are asking for a neater, cleaner finish for residents' amenities. Etesia's pedestrian machine is designed specifically for speedy, efficient cut and collect operation.
"When we talked to Matt Clark at South East Groundcare about which mower would be best suited for this type of work we stressed the importance of ability to cope with cutting on quite steep slopes," said Allen Welch, Contract Supervisor at FGS. "Much of the amenity area on the estates in Hastings is pretty undulating, so we needed a machine that could handle it. It also needed to be light enough for staff to lift on/off of commercial vehicles."
"These Pro 46s are certainly light and easy to manoeuvre. We just bag up the cuttings and when each job is finished take for green waste. The grass areas are always left free of unsightly mowing debris, so the contract spec is fully met month after month."
FGS has had the contract with Amicus – which also includes border maintenance and hedge trimming – for eleven years and when it comes up for tender again next January Jenny Waterfield is confident the contractor will be successful once more, thanks in no small part to the consistency of its mowing.
As well as the cut and collect virtues of the Pro 46, Jenny spoke of their business benefits.
"There is hardly any downtime," she said. "The mowers are worked really hard over eight months of the year and just routine servicing is all we ever need. They were a sound investment and more than earn their keep."
The single blade Etesia Pro 46 has a 5hp 160cc Honda petrol engine. Cutting width is 46cm, the detachable grass box with 'full' indicator has a capacity of 52 litres, and overall weight is just 37kg. Low vibration and noise levels meet all EU legislation and individual wheel height can be adjusted from 25mm to 88mm. There are six models in the range, with options including mulching facility. For more information or details of your nearest dealer visit www.etesia.com/uk or email sales@etesia.co.uk
—– Ends —–
Photo Caption:
The Pro 46 is being used here by contract supervisor Allen Welch on the Thomas Brassey Estate in St Leonards.
https://www.etesia.co.uk/wp-content/uploads/2011/09/fgs_group.jpg
204
250
etesiaadmin
http://etesia.co.uk/wp-content/uploads/2017/07/etesialogo.png
etesiaadmin
2011-09-05 15:38:17
2011-09-05 15:38:17
On the Housing Estate Etesia's Smallest Pedestrian Rotary is a Real Pro