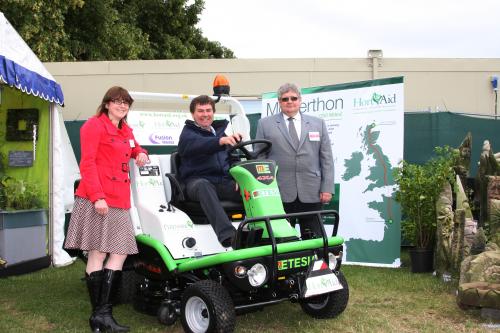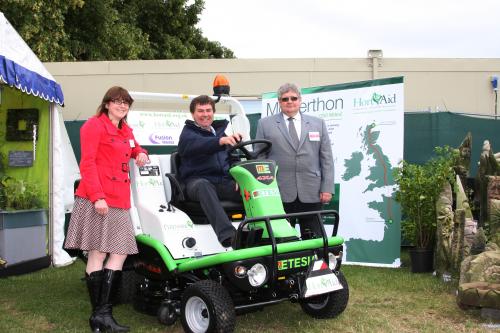 Phil Voice, founder of the Landscape Juice Network, has announced that he will be driving an Etesia H124 mower from Bergerac in France up to John O'Groats in Scotland, to raise money for Perennial (Royal Gardeners' Benevolent Society). Not only is he travelling through two different countries but, Phil will be racking up the mileage covering an enormous distance of over 1,250 miles (2000km).
Phil's Etesia 'Mowerthon' machine is being prepared at the Etesia factory in France to include a cab with heater for the unpredictable British weather. Phil will be stopping to mow at special locations which will be revealed shortly before he starts on this epic journey at the beginning of October.
Phil has taken on this 'Mowerthon' to raise money for Perennial – the national trade charity which provides free, confidential advice and support to everyone working in, or retired from working in, horticulture, and their families, including gardeners, landscapers, nursery and garden centre staff, parks and grounds care staff and tree surgeons.
"I'm always thinking of ways to help, and sitting at my desk one day I thought about walking from Lands' End to John O'Groats to raise money for charity, but this had already been done," commented Phil. "I then had a brainwave. Why not do it on a mower? Better still, why not do it from my home in France? After an email to Les Malin at Etesia which he forwarded to Patrick Vives, Etesia's President, they offered a machine with their full support.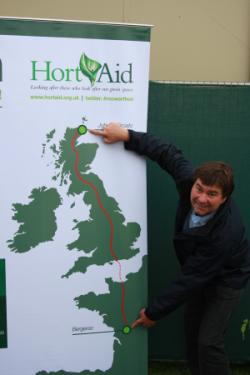 The next challenge was to work with an appropriate charity. Lindsey Churchill of Perennial was extremely active on the network and I felt Perennial were more closely aligned, helping the horticulture practitioner, with what LJN does than anyone else out there…so I contacted Lindsey and here we are now. We're also looking for a similar charity to work with in France".
Etesia are delighted to sponsor this fundraising activity by providing the machine, as well as providing a support crew and their strong dealer network are looking forward to supporting Phil along his journey.
"We were introduced to the Landscape Juice Network three or four years ago and have found it to be an extremely good way of speaking directly to our end users", said Les Malin, Etesia UK General Manager. "When Phil approached us with an idea that he wanted to ride a mower from France to John O'Groats, our initial thought was that he was mad.
When he explained to us why he was planning this event, to support and help the industry he's worked in all his life, then we were only too happy to support Phil with his journey. We look forward to meeting him at John O'Groats".
There are plenty of ways to sponsor or get involved, simply visit www.hortaid.org.uk or if you would like to donate, please visit www.justgiving.com/mowerthon.
https://www.etesia.co.uk/wp-content/uploads/2012/08/mowerthon.jpg
333
500
etesiaadmin
http://etesia.co.uk/wp-content/uploads/2017/07/etesialogo.png
etesiaadmin
2012-08-22 23:45:56
2012-08-22 23:45:56
One man, one mower, 1250 miles!