Pellenc has the advantage at Hutchesons'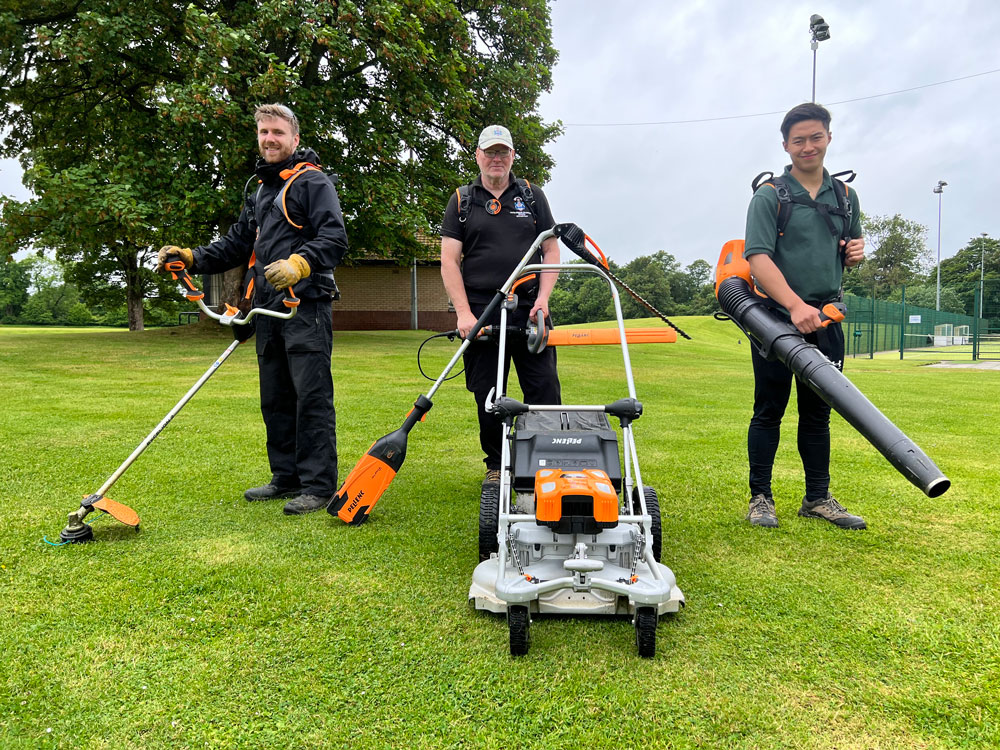 Iain Ellis, Head Groundsman at Hutchesons' Grammar School, has highlighted the many benefits of using a range of Pellenc battery-powered equipment.
Hutchesons' Grammar School is a co-educational, independent school in the south-side of Glasgow. Founded in 1641, the school has a long-held record of academic achievement and offers pupils a wide choice of extra-curricular activities at its primary and secondary schools.
Many of these activities and clubs are focussed on sustainability – a topic which the school cares deeply about.
Sustainability isn't just limited to the pupils, as Iain revealed.
"Hutchesons' is a very eco-friendly school, and we all have a part to play," he said. "I have wanted to go down the battery-powered route for a long time now."
Approximately six months ago, Ian got the go ahead from the school to purchase a range of innovative Pellenc battery-powered equipment. Organised and supplied by Allan Wright of Agrovista Amenity, Ian purchased an Airion blower, an Excelion strimmer, a Helion compact hedge-cutter as well as the Helion telescopic model, and the Rasion pedestrian mower.
"I was instantly impressed as to just how quiet the equipment was," said Iain. "In this respect it is brilliant because we simply couldn't use our old two-stroke machinery when classes or exams were in progress. Furthermore, the Pellenc equipment offers far more protection to operators."
Light, odourless, noise-free, with no starting problems and enough power to enable professional users to work for a full day on a single charge, it's no wonder more and more professional users like Ian are turning to Pellenc. It is an attractive alternative to those who have, for several years, been relying on fuel-based machinery.
Iain was quick to point out the advantages.
"The Rasion lawnmower has surpassed itself completely – especially on the huge banks we have at the school. We used to have a big mower which was a real struggle and didn't do much good especially with the oil tipping back and forward. The Rasion is so light, and it turns on a sixpence. We no longer have to tip the mower and walk round with it to turn. I also like that there are four settings for cutting and four speed settings too. I can't praise this mower enough.
"Then there is the Airion blower which offers us far more control than our old two-stroke blower. We have many stone areas on site and with the low power setting we can easily blow grass off without moving the stones. This wasn't possible with the two-stroke blower.
"We also like how light the equipment is," continued Iain. "There are five sites we tend to, and we need to constantly move machinery from one site to another. Our old petrol machinery was so heavy compared to the Pellenc equipment. We are no longer having to transport fuel so that is good from a health and safety point of view. Plus, we are saving a lot of money on fuel – especially with prices going up all the time.
"The batteries don't cost much to charge and the life on them is really good – we've never ran out of battery life.
"Overall, I can't speak highly enough about the Pellenc equipment – it has made a huge difference to the work we do across all the sites. The other bonus is the warranty and I'm looking at purchasing more Pellenc tools this year."
As Iain says, Pellenc UK offers an industry leading four-year commercial warranty for all batteries and a three-year warranty for all tools.
Pellenc is distributed exclusively in the UK by Etesia UK.