Pellenc – the healthier alternative for Patterson's
After a decade of working with 2-stroke engines, Adam Patterson, from Patterson's Gardening Services in Northern Ireland, thought it was time to switch to battery-powered equipment.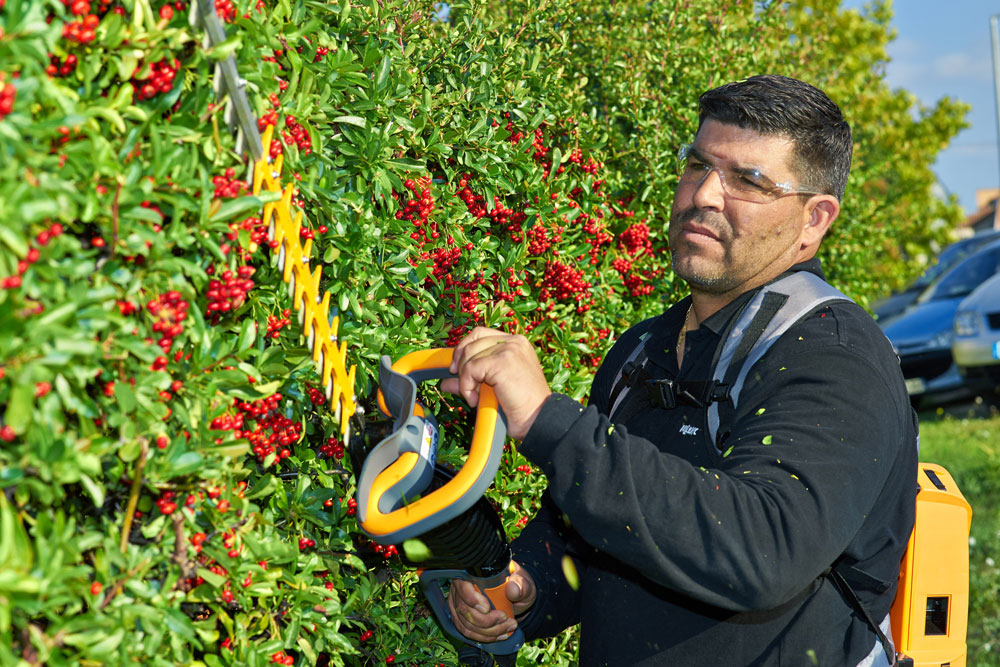 Covering all kinds of garden maintenance, Patterson's Gardening Mowers, based in Lisburn continues to go from strength to strength. Renowned for its high quality of work and excellent customer service, the company never rests on its laurels.
Adam is proud of the company's vast customer base, and he revealed that in the whole seven years the business has been running, he has never had a conversation starter such as his new Pellenc equipment.
"I would say the Pellenc equipment has been the biggest talking point ever," he said. "It is a huge conversation starter with customers, and they'll often stop me to comment on how quiet it is. It is so quiet, that sometimes I don't even need to turn it off; or if I do, I simply take my finger off the trigger – it's that easy."
Adam and his customers aren't the only ones to be bowled over by the innovative range of Pellenc battery-powered equipment. A forerunner when it comes to lithium-ion technology, Pellenc has established itself as the number one choice in the 'zero emission' professional power tools market for the maintenance of urban and green-spaces.
Light, odourless, noise-free, with no starting problems and enough power to enable professional users to work for a full day on a single charge, it's no wonder more and more professional users are turning to Pellenc. It is an attractive alternative to those who have, for several years, been relying on fuel-based machinery.
Not only will users see a huge amount of savings by eliminating the necessity of purchasing fuel but by using the Pellenc equipment, they will be contributing to protecting the environment by reducing the consumption of fossil fuels and noise pollution.
With three members of staff to think about, Adam's concerns about the fumes from 2-stroke engines weren't just limited to himself.
"The main reason for looking at battery alternatives was because of the health implications," he said. "This was most apparent when using a hedge trimmer because myself and my staff use these tools a lot and quite often, we would be surrounded by the fumes for hours at a time. I also found myself coughing a lot at night-time. It was absolutely the right time to make the switch and I thought the hedge trimmers would be a good place to start."
As a result, Adam arranged a demonstration with his local dealer RD Mechanical and purchased the Helion Compact 2 which is the lightest battery-powered hedge trimmer on the market. It is an efficient tool that meets the needs of professionals in terms of power and trimming quality. In fact, the Helion allows the user to work comfortably when trimming hedges, ornamental trees and can also be used for pruning.
Furthermore, a swivel head is available on the pole models, and can be adjusted by +90°/-45° which means you can work in all trimming positions. The Swivel handle is also adjustable by +/- 90° for vertical work without bending the handle.
"It's a fantastic bit of kit and I comfortably get a full day's work out of it," he said. "I have the battery backpack too, and you hardly notice it is there.
"I looked at a couple of other brands of battery-powered powered products, but Pellenc just stood out to me, along with the great back-up service I get from RD Mechanical. I think one of the biggest selling points is that they are waterproof and that gave me extra confidence. Combine that with the 4-year warranty on the tools and a 3-year warranty on the battery, and you simply can't go wrong with Pellenc."
Pellenc is distributed exclusively in the UK by Etesia UK.