Save up to £745 with Pellenc

Pellenc has announced three promotions where customers can save up to a MASSIVE £745!
Pack one includes the ULiB 400 battery and Helion hedgecutter and offers a £527 saving.
The Helion hedge trimmer is an efficient tool that meets the needs of professionals in terms of power and trimming quality. Their odourless operation and light weight allow the user to work comfortably when trimming hedges, ornamental trees and also for pruning.
Innovative features include:
Greater cutting power designed for pruning and finishing
Fast connector system for quick connection and disconnection
Retractable trigger for ease of use
Water protection to IP54
Easily interchangeable blades
Lower vibration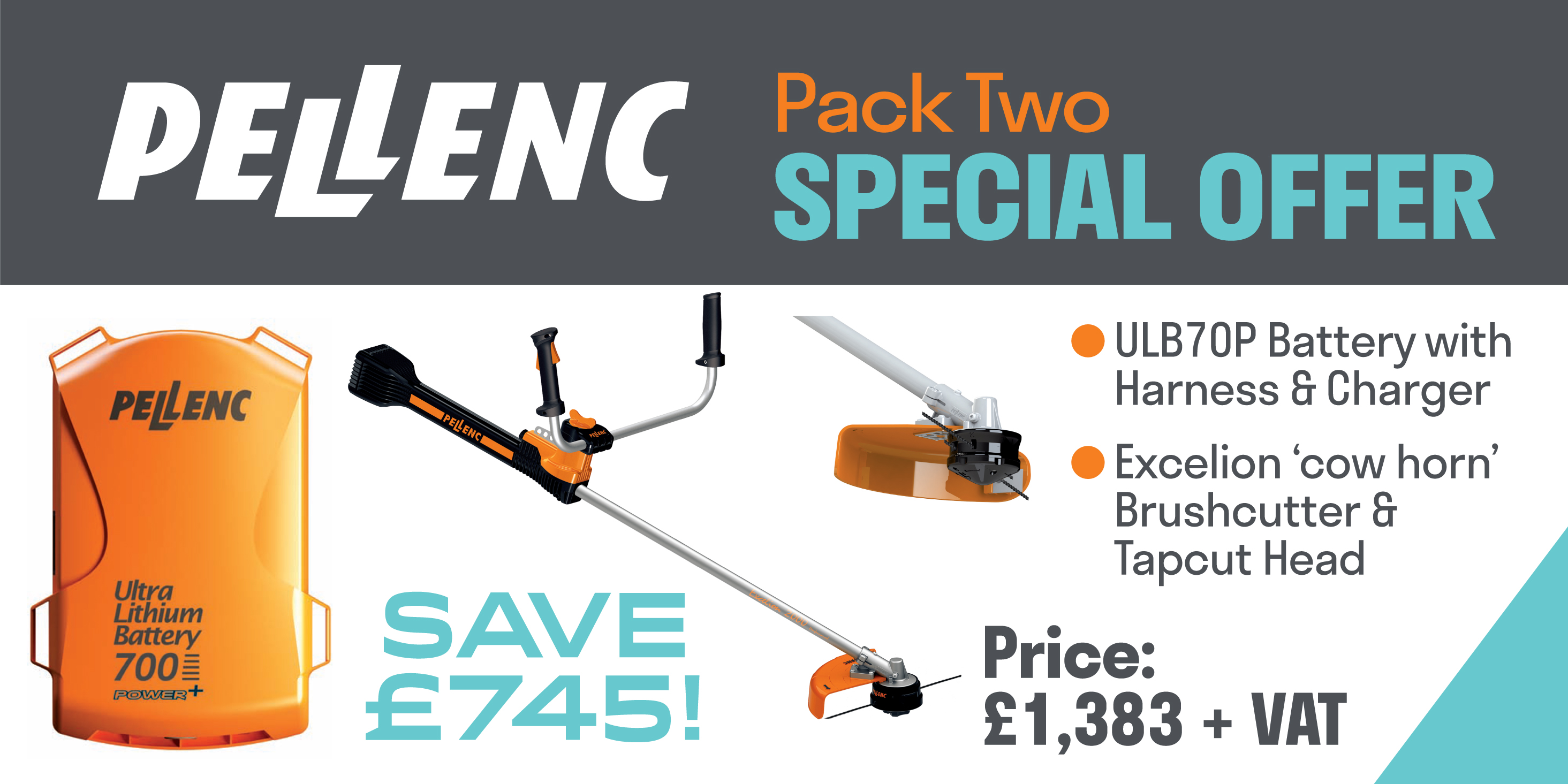 A swivel head is available on the pole models, and can be adjusted by +90°/-45° which means you can work in all trimming positions. The Swivel handle is also adjustable by +/- 90° for vertical work without bending the handle.
Pack two includes the ULiB700 battery and Excelion 'cow horn' grass strimmer and offers a £745 saving.
Strimming long grass, weeds and undergrowth on steep or difficult terrain demands particularly well-thought-out tools. They need to be rugged, powerful, easy to handle and ergonomic in use – just the characteristics of the new Pellenc 2000 hand-held brushcutter, making it the ideal maintenance tool for professional landscapers and contractors.
With a new heavy-duty harness and weighing just 5.1kgs, the Excelion 2000 can be purchased with a choice of four cutting heads: the 'roll-cut' head will accommodate 7 metres of 3mm twisted wire or up to 9 metres of 2.7mm, the 'tap-cut' head is capable of using the same wires, a new 'multi-head' is available for quick changes between wire and blade. A new heavy duty 'blade-cut' will shortly be available.
The Excelion 2000 prevents almost 98% of the direct emissions of a petrol engine. Users who decide to recharge Pellenc batteries with the Solerion solar charger see the CO2 emissions totally eliminated, and in addition an important factor for the commercial operator, vibration levels of 2.3ms².
As with all other Pellenc products, the Excelion 2000 uses the ultra-high capacity technology of the Pellenc lithium battery and guarantees non-polluting, odourless operation with quick start-up and up to 4.5 hrs of continuous operation.
Pack three includes the Airion 3 hand-held blower and quick release cable and offers a £228 saving (please note that this offer only applies when ordered with either pack one or pack two).
The rewarding result of the company's innovation and experience in multifunctional, long-life batteries, this remarkably lightweight and perfectly balanced new tool offers ergonomic benefits which are essential to user comfort. The Airion 3 also has the special feature of being both quiet and odourless.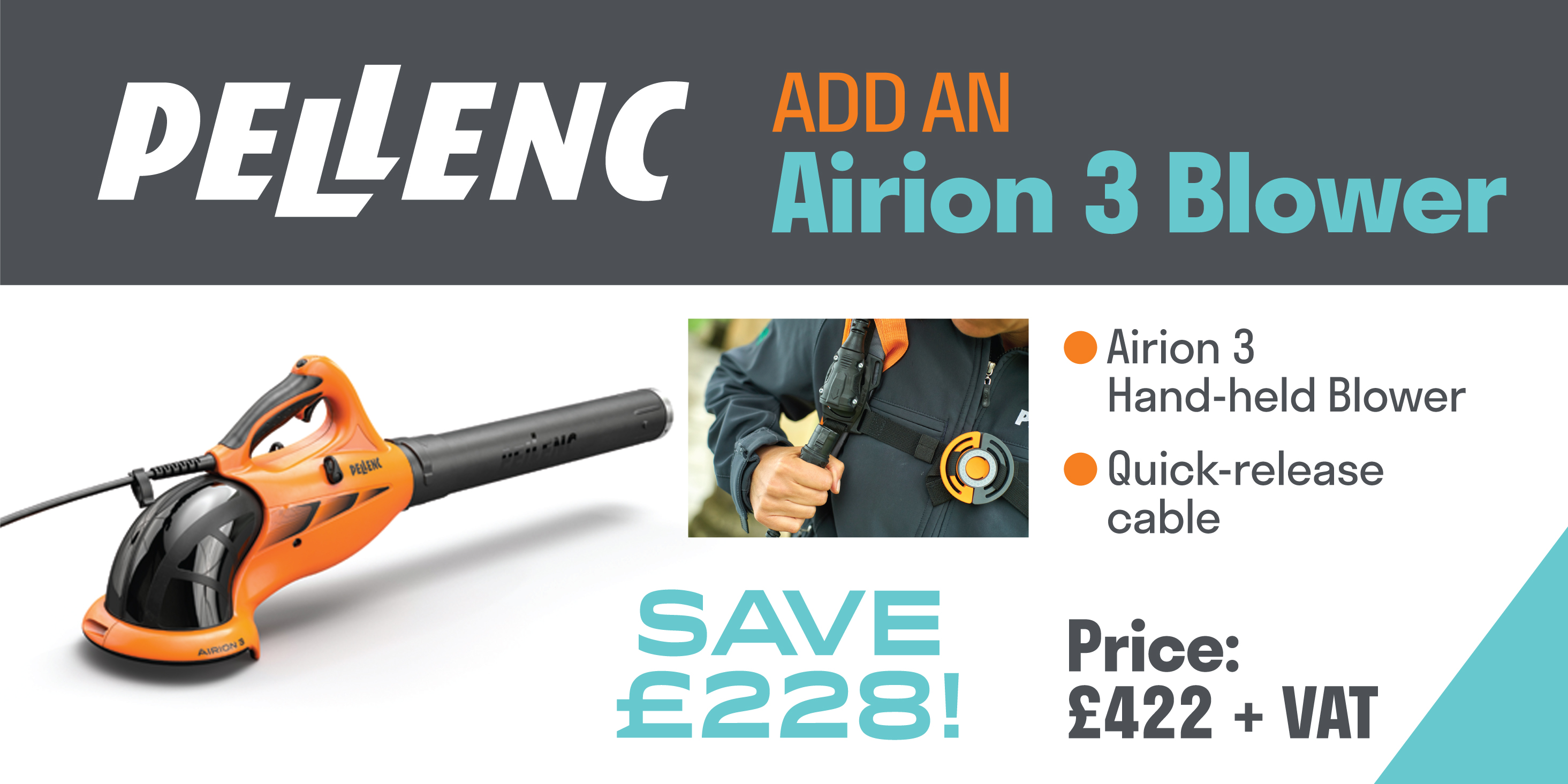 Whereas traditional blowers tend to swing downward towards the nozzle, the Airion 3 has an angled air intake, which offsets the swing effect from the air blast. This keeps the tool correctly balanced at any speed setting without putting strain on the wrist. This design also significantly reduces the blower's noise disturbance for people in the surrounding environment, with the added benefit that the user no longer needs to wear ear defenders.
In addition, the Airion 3 profits from the Fast Connector system for rapid tool connection / disconnection. This feature allows you to quickly remove the tool while working if there is a risky situation or to use both hands freely without having to remove the back battery.
All Pellenc batteries come complete with a comprehensive four-year commercial warranty, while all Pellenc tools come complete with a comprehensive three year commercial warranty.
Pellenc is distributed in the UK and Ireland by Etesia UK.