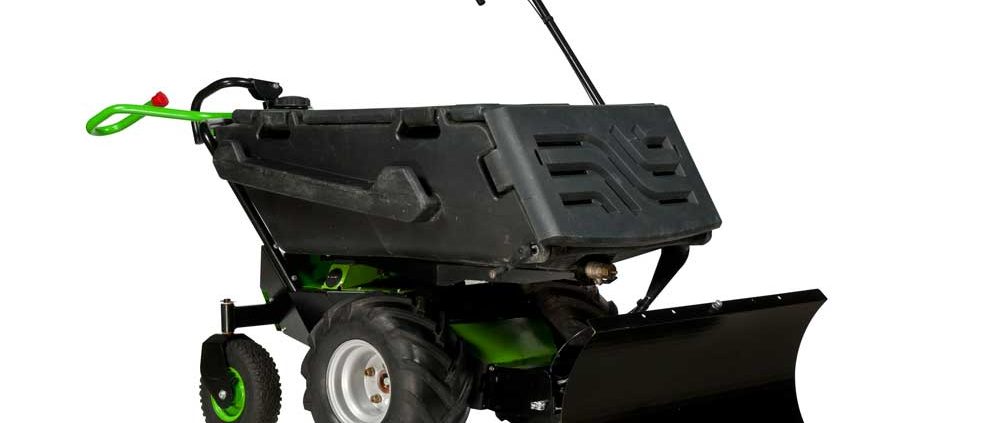 Etesia UK has announced that the Donky electric wheelbarrow is now available with a 10% price discount.
Lightweight, noiseless, no fumes and big savings on fuel – since its launch in 2015, the environmentally friendly Donky electric wheel barrow has quickly become a popular choice for those responsible for landscape management.
With a powerful 1700 W engine, electronic advance management and two driving wheels with an agricultural profile, the Donky has an impressive capacity to move in difficult terrain. Unlike non-electric motorised wheelbarrows, users can enjoy up to two days of work without any harmful pollutants – in turn helping to protect the environment.
Working and moving in complete silence, and not creating any noise problems for the surrounding area, the Donky electric wheelbarrow can move up to 250 kg or 180 L (400L with the boards) in one trip. With a tank integrated in the tray and a 1″ valve, it can carry 85 L of water or liquid and a spray hose can be connected to it.
The Donky is not just comfortable, environmentally friendly and silent, it is also a true tool carrier; with its exclusive MRM tray and accessories, it will help you in a large variety of jobs throughout the year from cleaning, landscaping, snow removal, transportation of liquids and work platforms. It allows the transport of bulky products (boards, cross member, closing fabric and reel), and provides a working surface at a suitable height. The Donky also features a tray emptying function which is achieved by a central lever, with unlocking and assistance.
This versatile machine can be used in many areas including building and landscaping sites, breeding farms, transport activities, snow clearing, green space maintenance, vegetable farming and plant nurseries.
Furthermore, the hourly cost of use of an Etesia Donky wheelbarrow is approximately £0.03 meaning that the operator will notice significant savings when compared to a fuel based wheelbarrow.
Now with a 10% price reduction, the Donky is an even more cost-effective solution priced at just £3231 +VAT.
For further information, please contact Etesia UK on 01295 680120 or visit www.etesia.co.uk
"I've had the machine for 21 years and it's still going strong – which says a lot about the quality of the build. The base of the machine never deteriorates – you've got the chassis which is strong, it has a robust front axle, there have never been any problems with the gear box and the engine is nice and smooth. Overall it has performed for 21 years in all weather and ground conditions – it's been brilliant."
The Etesia Hydro 100 was in fact the mower that helped Etesia make its entry into the world of green spaces. It was in 1989 and the concept was a revolutionary one – the first ride-on mower with direct ejection and integrated collection. This new concept made a strong impact on the mower market and rapidly became the standard-setter. Since then, the Hydro 100 has evolved and 2015 saw the launch of the Hydro 100 III. Capitalising on the strengths of the previous model, the new Hydro 100 goes beyond existing standards providing a powerful new Kawasaki engine, a larger 14-litre gas tank to give it more power and range, new steering for greater comfort and a new modern hydraulic drive transmission with differential lock for improved traction and drivability.
Although Robin is extremely happy with his current model, it appears that he already has one eye on the new Hydro 100 III and believes that it will be of great benefit to whoever he eventually passes the baton to.
"We are currently looking into grants because I would like a new Etesia mower. At my ripe old age someone else is going to have to do it one day so I hope the club manages to get one.
"But hopefully that's a long way off. I love what I do; it's just like doing the gardening I suppose, except I get more of a reward from this. The award is just the icing on the cake really."
https://www.etesia.co.uk/wp-content/uploads/2017/06/Electric-Barrow.jpg
665
1000
etesiaadmin
http://etesia.co.uk/wp-content/uploads/2017/07/etesialogo.png
etesiaadmin
2017-06-15 13:18:46
2017-10-05 14:44:14
10% off the Etesia Donky Electric Wheelbarrow