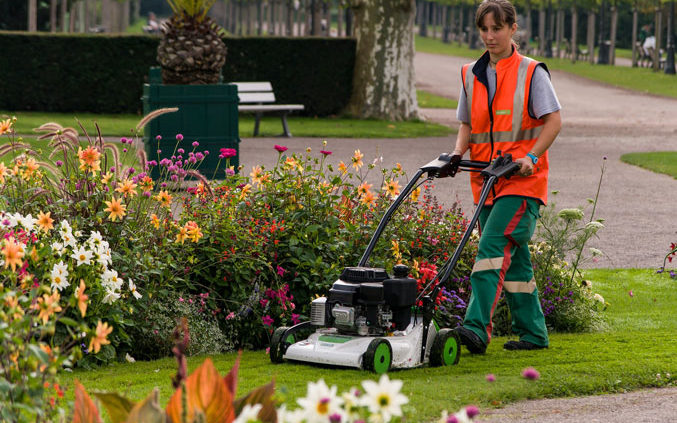 Put simply, mulch mowing recycles the grass clippings by finely cutting the standing grass without collection which in turns feeds the soil.
By mulch mowing with your Etesia pedestrian or ride-on mower, you may also save time as you will no longer stop to empty the grass box.
You will need a lawn mower specifically designed as a mulching mower to recycle the grass correctly. At Etesia, we have a range or pedestrian or ride-on mowers which can cut and collect, cut and drop, mulch and now with the fitment of a rear roller kit, stripe – all thanks to our DuoCut concept.
Why mulch?
Grass clippings make a great slow release fertiliser if mulched correctly and left in the lawn. Throwing away grass cuttings only adds to the already overloaded landfill sites and of course wastes valuable nutrients and time.
How does the Etesia DuoCut system work?
Our research and development team never gave up on the quest to develop a cutter housing that could be as good at mulching as at collection. In 2006, our engineers created the DuoCut concept. This was a housing designed to give a 100% quality finish regardless of whether you are collecting or mulching, with no compromises on either of the two functions.
The new housing design even enhances collection performance. The kit, supplied as standard with our range of DuoCut pedestrian mowers, is simply a plug for the ejection channel that perfectly follows the bell shape required for mulching and does not require the addition of another blade. The accessory can be fitted without any tools in just a few seconds. Following the success of this new concept, it was adapted for the cutting deck of the Hydro 100 Evolution in 2009. As with the pedestrian lawn mower models it allows for a very high quality of mow whether using the collection or the mulching function.
Why is mulching quicker?
Mulching grass is quicker than collecting because there is no need to stop mowing to empty the grass box. A mulching mower travels at a similar speed to a collecting mower but keeps mowing without regular emptying until the lawn is finished which, depending on grass volume, can be least 30% quicker than cut and collecting.
Environmentally-friendly lawn care
Green spaces can be a valuable asset to any home. During the spring and summer months you will spend much of your quality time enjoying your garden as an extension to the house. Your lawn is the most important area, so it needs to be durable, neat, tidy and above all healthy.
Cut and fertilise at the same time
Using an Etesia mulching lawn mower recycles grass clippings in a way that feeds the soil. As the clippings decompose nutrients and fertilisers are returned to the soil, you will be cutting the grass and fertilising at the same time.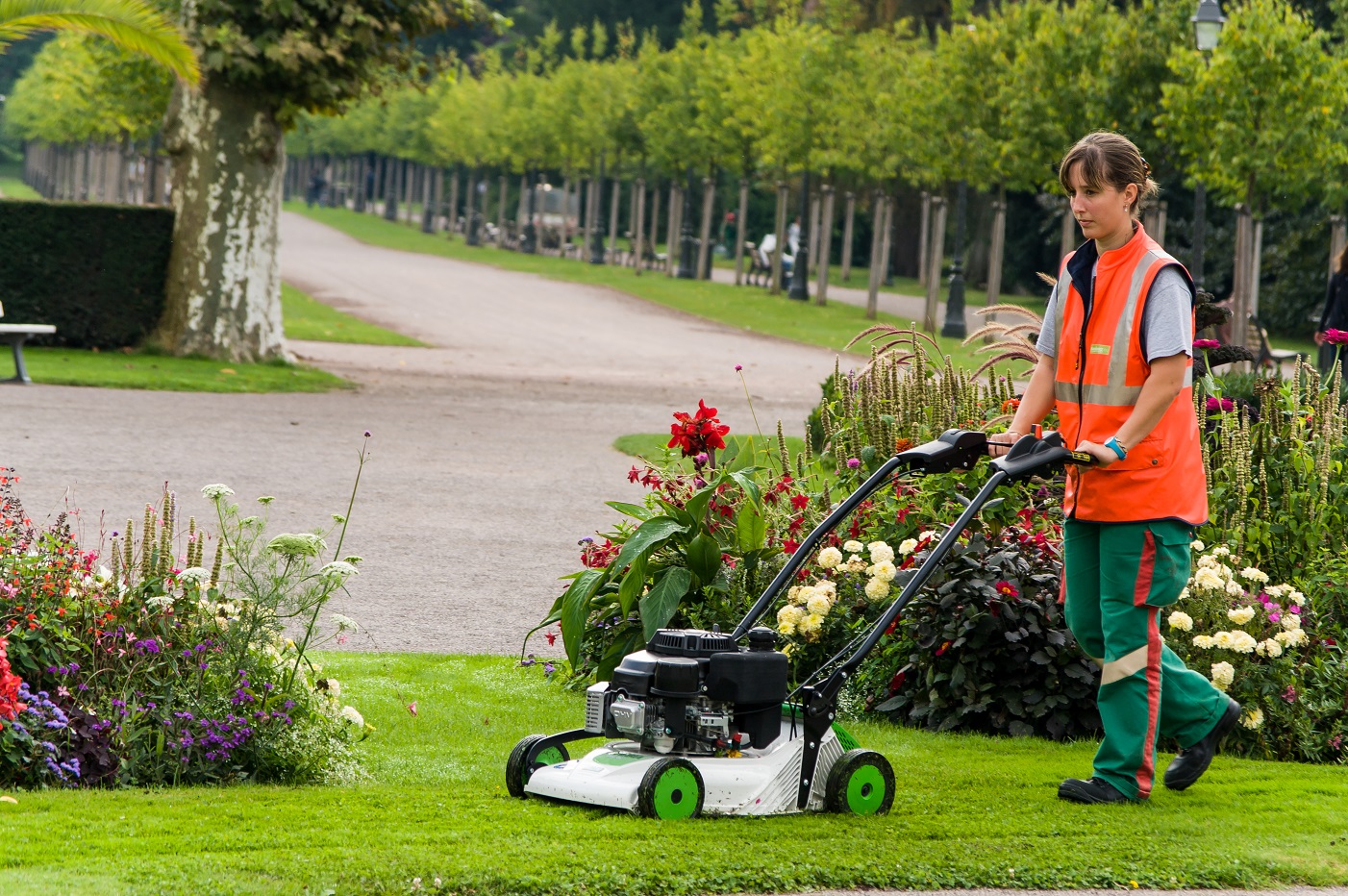 No Waste Disposal
Unlike more conventional mowers which cut and then collect grass clippings, Etesia pedestrian Duo Cut mulching lawn mowers recycles the clippings as you mow. There are no grass boxes to empty and no trips to the compost heap or local council recycling centre. The result is a perfect lawn finish that can be up to 30% quicker.
Save time
By using a purpose built mulching lawnmower you will get a perfect lawn and save time. If you use an Etesia DuoCut mower you will not only finish mowing the lawn quicker but also have a healthier lawn. Not only will you save time and money, you will eliminate the need to dispose of grass clippings along with piles of rotting grass associated with conventional mowers.
Reducing thatch
Thatch is a 'spongy' layer of stems, root stolons and partially decomposed organic matter that has accumulated on the surface of the soil. If left untreated, thatch forms a layer preventing healthy grass growth with the lawn dependent on artificial additives to survive. Thatch is however extremely easy to remove with the aid of a garden machine called a scarifier.
Mulch mowing using an Etesia mower actually reduces thatch and contrary to popular belief it does not cause thatch build-up. The micro-organisms that thrive on decomposing mulched clippings also do a good job breaking down thatch.
Etesia has a new range of battery-powered pedestrian mowers offering extreme versatility with the ability to cut, collect and mulch without the need for an accessory. Find out more here
https://www.etesia.co.uk/wp-content/uploads/2017/06/mulch3.jpg
450
677
etesiaadmin
http://etesia.co.uk/wp-content/uploads/2017/07/etesialogo.png
etesiaadmin
2017-06-22 14:59:12
2017-10-13 06:54:27
Mulch mowing advice from Etesia