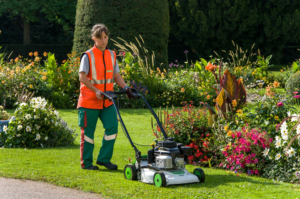 Pedestrian rotary mowers remain a critical tool for contractors, gardeners, local authorities and sports clubs, says Etesia UK's Managing Director Les Malin.
There are numerous makes and models to choose from, with keen pricing reducing the gap between cheaper models and top-end kit.
Anyone prepared to look through purchase legers and workshop costs relating to pedestrian rotary mowers will no doubt notice a number of changes between operating costs and buying patterns over the past decade.
The first issue will relate to the actual price paid for a given mower. Accepting that those placing multiple mower orders would not have paid full retail price for a given machine, it is still noticeable that the list price is quite likely to be less than it was at the turn of the century.
It is difficult to list like for like examples because specifications change year on year.
But take a look at basic cut and collect rotary mowers that were priced in the £700 to £800 price bracket in say 1998.
Similar models now list with prices starting with perhaps under £600. A key reason has to be more realistic pricing, list prices more accurately reflecting the price paid by end users.
This issue has also had a knock-on effect, with popular top end models on the fringes of the domestic to semi-pro market also benefiting from keener pricing.
Also, top-end 'professional' models, with rugged, commercial 5.5hp engines, stronger decks and better vibration control levels have prices starting under £1,000.
So, do these factors make considering genuinely low-priced mowers less relevant?
A straw poll of users suggests price is not a key issue, so this argument does not have much influence anyway.
Requirements
Reliability, good after sales support and cutting performance top the requirements list. It is only when two models of similar specification and performance are considered that price starts to influence the buying decision. Everyone is of course influenced by price and some mowers do not make it to the demonstration shortlist simply because they are considered too expensive.
But several end users now suggest they now add another requirement to their shopping list; reduced vibration for the operator.
It is in this department where some 'low cost' mowers really fall down.
Quick fix mowing
One of our end users chose to purchase five low cost bagging rotaries from a well-known DIY chain to cope with a sudden flush of grass growth at the end of last season.
The mowers performed reasonably well in the two-week period in which they were used, but the operators found their vibration levels totally unacceptable when compared to the machines they would normally have used.
Hiring in extra capacity would have been the usual course of action, but the right machines were not available to the contractor when the grass had to be mown.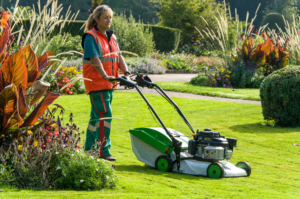 This cheap buying experience will not be repeated by the contractor concerned because the mowers not only proved relatively costly once their purchase to working hour ratio was worked out but also because the operators who used them found them noisy and prone to vibration; relatively smooth when new, the blades obviously lost their balance.
Now that the mowing season is well underway, it is the time to sort out some demonstrations to help see if it is worth considering some different machines for next season.
As an example, Greenfingers, based in Scotland has added 14 Etesia Pro 46 PHCS pedestrian mowers to their fleet. The Etesia Pro 46 PHCS offers extreme versatility with the ability to cut, collect and mulch without the need for an accessory. Built upon the DUOCUT concept of combining 100% collection and 100% mulching decks together, the Pro 46 PHCS delivers high performance without compromising the results of either of the functions. By crushing the grass finely, even if it is long and wet, it excels in its collection abilities. Fitted with a powerful 5HP Honda engine, the PHCS offers low vibrations with 'soft grip' handle bars which can fold for easy transportation.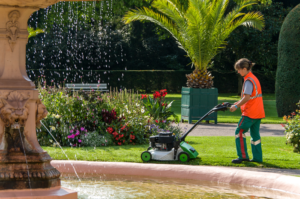 Greenfingers proprietor Jason McCran says: "We predominately use the Etesia pedestrian mowers on small grass areas on grounds where we work with property managers, or around sheltered complexes for housing associations. We find that by using the PHCS, we can govern the speed better because you can cut with it as quick as the operator can move".
"The majority of our work is cut and collect and the Etesia mowers do this in wet weather better than any other mower that we've tried. This is what particularly drew us to them because in Scotland we are prone to rain throughout the summer months. We've never had any issues with Etesia equipment; they do the job to an extremely high standard and we have no reason at all to change."
Etesia is a company whose products constantly evolve. We are a company that specialises in building high quality grass cutting machinery for both the professional and domestic market. With full service and spare parts back-up as well as dedicated area managers available to give free demonstrations, we hope that people can see for themselves the benefits of what we have to offer. As mentioned earlier, it's not just the initial purchase price that has to be considered when choosing which new mower to buy – it's the overall lifetime cost, which includes, purchase, reliability and servicing costs – which is why we now offer a full three-year commercial warranty on our machines. Now is the time to book some demonstrations to see how well these latest machines measure up.
https://www.etesia.co.uk/wp-content/uploads/2018/05/Pedestrian-rotary-mowers1.png
604
1000
etesiaadmin
http://etesia.co.uk/wp-content/uploads/2017/07/etesialogo.png
etesiaadmin
2018-05-23 07:16:22
2018-05-24 13:37:47
Does it pay to buy on price?