A National Trust property in Devon keeps tree and hedge cover in check, quietly and without fumes.
Situated on a ridge above the Plym estuary on the outskirts of Plymouth, the much visited landscaped garden at 18th Century Saltram House is very much exposed to south coast winds. Head gardener at the National Trust property Penny Hammond has the constant task of maintaining screening, yet preserving the delightful views across the Devon countryside. She's now found a way of achieving this that's easier and less obtrusive to visitors.
Holm Oaks (also known as Holly Oaks) provide evergreen protection for the garden areas around the House, but the lower branches have to be kept in check to allow visitors to see the surrounding landscape. Previously this was a job done by 2-stroke petrol saws and because of the noise and fumes, the work had to be carried out before 11.00am when Saltram House welcomes its first visitors each day. Since April this year things have changed with the use of battery-powered tree and shrub equipment.
"We'd had Pellenc equipment on trial from Exeter dealer Radmore and Tucker and, because of the way they performed for us, decided we had to add them to our armoury permanently," said Penny Hammond,"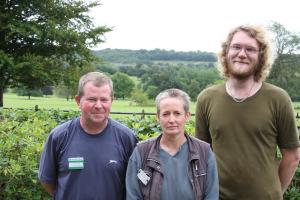 "I have to make a case for a fixed asset purchase like this, but it wasn't difficult since it fits neatly into the greener technology policy the National Trust is adopting these days. It means we don't have to call on contractors for cutting jobs anywhere near as much as we used to.
"The Holly Oaks are pretty tough to prune, but with the Selion pole saw it's like slicing through butter with a hot knife. We like very much that it can easily be extended and best of all its quiet and there are no fumes. We now do the job more quickly and at any time because there's no hindrance to visitors. It's very much opened things up for us in terms of work planning."
A 300-metre stretch of beech hedge planted six years ago for screening part of the garden area also has to be kept trimmed and a Pellenc Helion hedge trimmer was bought at the same time for this and other hedging work, as was a Pellenc Excelion brushcutter for general ground clearance work. Each of the new machines runs off a single lithium-ion powered battery unit that fits comfortably around the user's shoulders.
Penny Hammond has three full-time staff in her department and upwards of ten regular volunteers. She says that a real bonus is that the new tree and hedge trimmers are used with ease by everyone involved in the garden work at Saltram.
"In the past there used to be many more gardeners doing the work here, but now equipment plays a much bigger role, so it's important that what we use earns its keep. These new machines certainly do that. They are a dream to use."
https://www.etesia.co.uk/wp-content/uploads/2012/03/prune1.jpg
267
400
etesiaadmin
http://etesia.co.uk/wp-content/uploads/2017/07/etesialogo.png
etesiaadmin
2012-03-21 21:20:58
2012-03-21 21:20:58
A prune with a view