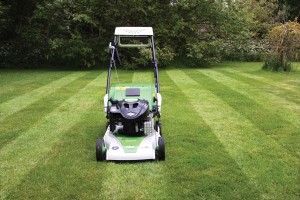 Etesia launch rear roller for perfect lawn striping
The professional's choice in cut and collect rotary mowers has just got better with the addition of an Etesia rear roller kit for easy effortless striping.
Etesia pedestrian mowers have become world renowned for cutting and collecting in all weather conditions – even the wet, but before now were not available with a rear roller kit for that all important presentation.
The first Etesia model available with the rear roller kit is the range of 41cm cutting width Duocut machines which are now able to cut, collect, stripe and by fitting the mulching insert, mulch – making this particular range of rotary mowers a must in anyone's armoury. Rear roller kits to fit the 46cm cutting width models, which are Etesia's most popular models, will be available soon.
No tools are required to fit the roller kits to an Etesia machine – just simply hang the free floating roller on two locating pins behind the grass box. Weighing 9kgs, the roller has been designed so that it will operate free-floating at any height the machine is mowing at – ensuring perfect striping no matter the weather or height of cut required.
"We've been asked if we could add a rear roller to our pedestrian mowers for as long as I can remember and I am thrilled that we now can," said Les Malin, operations director at Etesia UK. "Our products are known to be robust and innovative but we have seen a number of our customers adding their own roller kits, which wasn't ideal. This new rear roller kit will open our machines up to a whole new market where presentation of pitches or lawns is vitally important."
For further information, please contact Etesia UK on 01295 680120 or visit www.etesia.co.uk to find your nearest Etesia dealer.
For more news, reviews and insightful views, you can follow Etesia UK on Twitter @EtesiaUK and like the company's Facebook page – www.facebook.com/EtesiaUK. You can also view the latest Etesia videos by visiting www.youtube.com/EtesiaUK.
https://www.etesia.co.uk/wp-content/uploads/2017/10/Etesia-Mower-with-Rear-Roller.jpg
200
300
etesiaadmin
http://etesia.co.uk/wp-content/uploads/2017/07/etesialogo.png
etesiaadmin
2015-06-15 01:37:10
2017-10-13 01:41:23
Cut, Collect and now Stripe with Etesia