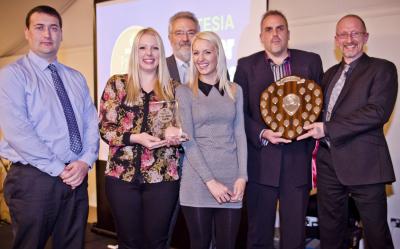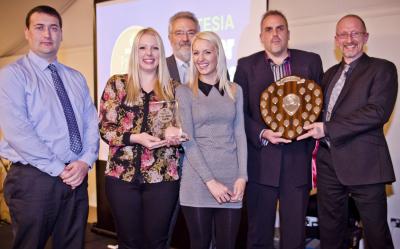 The success of the Etesia and Pellenc brands in the UK has been recognised at the company's re-launched 'Partners in Excellence' awards, which were held in November at Stoneleigh Park, Warwickshire.
The ceremony followed a day of new product launches for the 2013 season and a hands-on product test session. The Awards were given to the dealerships which have delivered the best performance over the previous 12 months, not solely in terms of sales but also in backup, sales and service support including marketing of both brands.
The evening started with Patrick Vives, President of Etesia SAS congratulating all Etesia and Pellenc dealers in a tough economic climate: "As we have seen from past events, this process does more than simply recognizing the great work already done; it also provides encouragement and impetus to dealers to continue working towards building a robust business and making the Etesia and Pellenc brands the success that they already are."
Introducing the winners, Les Malin, UK General Manager for Etesia said: "We have built our reputation on not only our innovative products but also the dealers who sell them."
Awarded the prestigious 'Overall Partner of the Year' award was RT Machinery of Buckinghamshire. "RT Machinery has not only demonstrated outstanding performance across all market sectors and product ranges, but they have also shown tremendous commitment to both Etesia and Pellenc, and without exception they continue to dominate their area. They thoroughly deserve all three of their awards and in particular the title of Etesia 'Partner of the Year," said Malin.
The complete list of winners were as follows:
New partner of the year – Balmers Garden Machinery, Lancashire.
Best marketing and promotion for 2012 – RT Machinery, Buckinghamshire.
Best Etesia ride-on sales 2012 – Angus Chainsaws, Arbroath.
Best Etesia pedestrian sales 2012 – Alex McDougall Mowers, East Kilbride.
Best Attila sales 2012 – RT Machinery, Buckinghamshire.
Pellenc partner of the year 2012 – Tomlinson Groundcare, Suffolk.
Etesia partner of the year 2012 – RT Machinery, Buckinghamshire.
The awards then handed over to professional Ricky Gervais look-a-like Tim Oliver to give his unique take on business management.
https://www.etesia.co.uk/wp-content/uploads/2012/12/tpi_8881.jpg
249
400
etesiaadmin
http://etesia.co.uk/wp-content/uploads/2017/07/etesialogo.png
etesiaadmin
2012-12-11 14:10:31
2012-12-11 14:10:31
Dealers Recognised in Etesia "Partners in Excellence Awards"