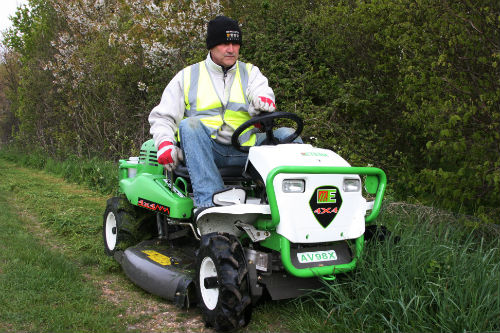 This year's weather has seen rain alternating with spells of warm, dry sunshine – the ideal conditions for encouraging grass, weeds, saplings and other unwanted plants to grow strong and lush. Holywell-Cum-Needingworth Parish Council in Cambridgeshire has chosen Etesia's Attila 98X four-wheel-drive ride-on brushcutter to clear this sort of overgrown vegetation.
The Parish Council have responsibility for over 13 miles of designated walkways and common land, banks, slopes and uneven ground to keep open and in good order all year around which is no mean feat.
As Jane Bowd, Parish Clerk at Holywell-Cum-Needingworth Parish Council points out, "Much of the route is grass, scrub and rough turf. The terrain is often uneven or waterlogged as some of the houses in the parish are built on a bank which is not easy to reach, but still require maintaining. It's public money that we spend so we have to look at other products, but we're very happy to stay with Etesia because we know that are excellent at what they do – nothing can compare to these machines."
With a cutting width of 98cm and up to eight cutting heights which can be adjusted by centralised lever, the Etesia Attila 98X ride-on brushcutter is reliable, efficient, comfortable and safe to use. Special attention has been paid to sound and vibration levels to reduce them to a very low level. A low centre of gravity, four-wheel-drive and a powerful 23HP Briggs & Stratton engine plus heavy-tread tyres and differential lock provide greater stability on slopes up to 30°.
"We call it the Daddy – it even pulls logs out of the way and does everything a 'normal' mower can do and so much more," explains Ian Armstrong, Head Groundsman for the Parish Council. "It goes through waist high material with ease – nothing seems to stop it.
"When we do our hedge cutting around the outside perimeter of the sports pitches, we leave the branches on the ground and just run over them. Then, when we cut the grass the Etesia mulches it all up. It's so fast and is certainly the best mower for what it does on the market – no question."
"As with any grounds maintenance tasks, we don't get a lot of feedback from residents when the areas are looking good, but when it looks bad – we certainly do," added Jane. "The past year, with the poor weather, we had some complaints at the beginning of the year with the length of the grass as our other mowers couldn't get onto the grass to cut it. We have a policy here to mulch, rather than cut and collect, so we just took the Etesia AV98X out to cut all the areas that the other mowers couldn't.
"You can't expect our groundsmen to do the job if they haven't got the right tools – with Etesia they know that they can't use that as an excuse."
https://www.etesia.co.uk/wp-content/uploads/2017/04/Etesia-Attila-Tames-Parish-Council's-Rough-Grass.jpg
333
500
etesiaadmin
http://etesia.co.uk/wp-content/uploads/2017/07/etesialogo.png
etesiaadmin
2017-04-24 03:16:21
2017-04-24 03:16:31
Etesia Attila Tames Parish Council's Rough Grass