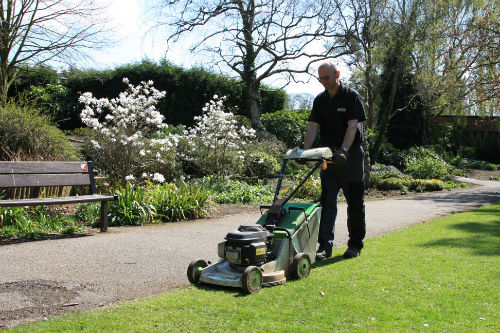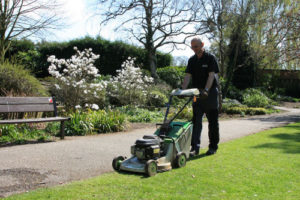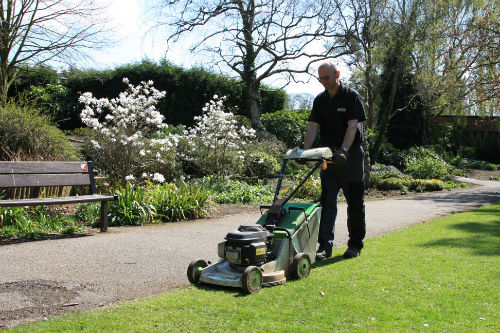 Nottingham City Council has taken delivery of eight new Etesia PRO46 pedestrian mowers to maintain the large parks located throughout the area, which brings the fleet size to over 40 mixed Etesia machines in all.
Selected following a thorough demonstration process by council supervisors and staff, the Etesia commercial walk-behind mowers were chosen to maintain a wide range of facilities including parks, gardens, traffic islands and other open green spaces.
Nottingham City has a historic network of open and green spaces with over 20% of the City's total land area made up of accessible, open and green spaces. These spaces are designed for recreation and enjoyment as well as improving the quality and beauty of the local environment. The majority of these spaces are public parks, natural spaces, allotments, cemeteries and sports grounds. Nottingham City Council manages, cares for and develops these spaces and has achieved 15 Green Flag awards and 11 Community Green Flag awards for 2011/12, the highest number in the East Midlands.
"Nottingham City Council looks after 136 parks and gardens across the city which range from large tourist attractions such as the impressive Arboretum through to the smaller neighbourhood parks," explains Gary Watts, Horticulture Supervisor at Nottingham City Council Parks Department. "Our aim is to offer a wide range of quality attractions that entice visitors to the City and that are accessible, attractive and useful to residents. Etesia help us to achieve these high standards."
Designed to meet the rigours of a wide variety of commercial grass cutting applications, Etesia's Pro 46 pedestrian rotaries are specified by contractors, local authorities and landscapers. The special shape of the mowing deck produces a powerful suction and blowing effect to ensure a quality cut with maximum collection. As an option, a mulching kit and mulching blade convert the pro 46 mowers into formidable mulchers. The Pro 46 rotaries are lightweight and compact, making them ideal for mobile grass cutting units. The handlebars fold, without the use of tools, for easy transportation or storage.
"The Etesia mowers have a very low vibration level. Like many councils, we use a point scoring system. Every minute you work, works out to 1 point per minute as it's the easiest way to work. Etesia are very low – 1 point per minute where as some other equipment we've used has been a lot higher which means than that our groundscare team can't use the equipment for as long.
"The option to cut and collect grass was another big factor in our purchase. We have a lot of traffic islands where we have to cut and collect and the Etesia leaves the best possible finish.
The Council generally replace their fleet of mowers every 2-3 years. For the past six years they have chosen Etesia and have been very happy with their purchase. "When we first decided to buy Etesia, their mowers come out on top on both the operators' and mechanics' evaluations, for comfort and ease of use, robustness, manoeuvrability, easy maintenance and the fact that they have easy-to-fold handle bars and are easy to transport between sites on the back of our ATV's. Operators like the mowers because they produce a very good cut and it's also an advantage to standardise on one manufacturer of mower as it helps with regular servicing, maintenance and spare parts.
"The Etesia's are extremely reliable. We use them every day and nothing ever goes wrong with them. I would recommend Etesia as they are excellent in what they do."
For further information, or to arrange a free demonstration, please contact Etesia UK on 01295 680120 or visit www.etesia.co.uk
For more news, reviews and insightful views, you can follow Etesia on Twitter @EtesiaUK and like the company's Facebook page – www.facebook.com/EtesiaUK.
https://www.etesia.co.uk/wp-content/uploads/2017/04/Etesia-PRO46-Pedestrian-Mowers.jpg
333
500
etesiaadmin
http://etesia.co.uk/wp-content/uploads/2017/07/etesialogo.png
etesiaadmin
2017-04-24 03:08:05
2017-04-24 03:12:42
Etesia PRO46 Pedestrian Mowers Remain Local Authorities First Choice