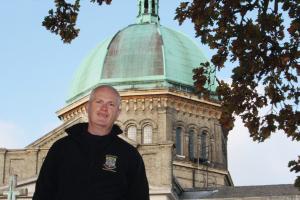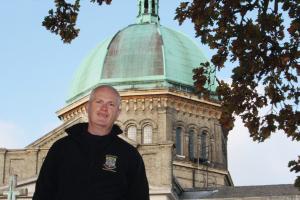 Autumn leaf fall is a massive problem to Eamonn Murphy, Grounds and Gardens Manager at Haileybury, one of the UK's leading boarding schools, in Hertfordshire. The co-educational public school, founded in 1862, has grounds of over 500 acres with hundreds of trees, most of them native deciduous, with oak, birch and chestnut the principal offenders in terms of leaf shedding.
For weeks on end Eamonn and his team have the daily task of seeing that not only are the school's pitches as leaf-free as possible, but that the surrounds of the teaching blocks and the main buildings are safe from fallen leaf hazards and always look in tip-top order.
Eamonn's dilemma had always been keeping a balance between controlling leaf accumulation in the central school areas and minimising disruptive noise. His petrol leaf blowers needed air defenders for the operative, so teachers and the bursary did not welcome leaf blowing albeit necessary. Eighteen months ago he was introduced to Pellenc lithium-battery equipment by his machinery dealer, RT Machinery of Aylesbury.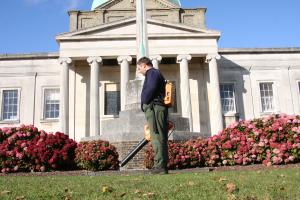 After a trial period of using these he soon realised that noise need no longer be an issue for work close to school buildings and bought a set of the equipment. Eamonn has had it in full active use at the school for just under a year now and the Pellenc Airion leaf blower, which weighs just 2.6Kg, is keeping the walkways and drives close to the school free of leaves.
"The acoustics of the school buildings and their surrounds are such that noises are much exaggerated," said Eamonn. "Control of these light machines is very easy and actually more responsive than our existing petrol ones. Set on level one, when you're 10 metres away from leaf blowing, you can barely hear it. Even on the top level four, it sounds a bit like a hair-drier, no more than that.
"At first my staff – and to be honest me too – were a little sceptical about whether such quiet machines would have the power to do the job. We have been proved wrong. Leaf blowing is more than adequately dealt with, and having a multi-purpose power source in the battery back-pack is a real asset. Switching from job to job, which we have to do all the time, is so easy now.
"The reduction in fuel expenditure is a big factor for us. In a single year we must have saved hundreds of pounds.
"I believe petrol-driven hand equipment will soon be a thing of the past. I pride myself on always looking for the latest and best solutions to problems, especially if they offer an environmentally friendly bonus. I do not like to stand still when it comes to equipment and methods of working. Health and Safety and EU Directives keep on mounting, so it's vital to conform or, better still, be ahead of the game. I like to think that, by doing jobs like leaf blowing using battery-power, Haileybury is a pace setter."
As a groundsman Eamonn obtained his initial training at Otley College in Suffolk and at Ipswich Town under Alan Ferguson, who is now in charge of pitchcare at the Football Association's National Centre at Burton. After joining Haileybury as a Deputy Head Groundsman ten years ago, within 18 months, Eamonn took over as Head Groundsman and last year in a re-organisation took on the wider responsibility of Grounds and Gardens Manager, which has given him the opportunity to undertake and manage all operations at the school concerning non-building work.
In his time at Haileybury he has achieved HND in Sports Turf Science at Writtle College. He heads up a team of 13 groundsmen and gardeners and looks after 13 grass pitches for rugby, cricket, football, lacrosse and hockey, plus a sand-based artificial hockey pitch. Thanks partly to him, and with the support of the Bursar, the school is these days self-sufficient in equipment and manpower for all its sports pitch and garden needs.
As well as seeing that Haileybury now has sports pitches to match any at rival public schools, Eamonn has a one rare and notable international distinction. He is the International rugby pitch consultant to Kazakhstan. Haileybury has sister schools in the Euro-Asian republic in Almaty and a recently opened school in the nation's capital Astana, and through Haileybury's affiliation with the rugby team (1st team captain undertaking coaching sessions at Haileybury Almaty) was invited to advise on the re-construction and on-going maintenance of its national rugby stadium at Almaty, which he describes as a very challenging, continuous but fulfilling task he carries out with the full support of the school.
https://www.etesia.co.uk/wp-content/uploads/2011/11/haileybury_2.jpg
200
300
etesiaadmin
http://etesia.co.uk/wp-content/uploads/2017/07/etesialogo.png
etesiaadmin
2011-11-23 21:34:38
2011-11-23 21:34:38
Haileybury makes light of its leaf problem thanks to battery blower