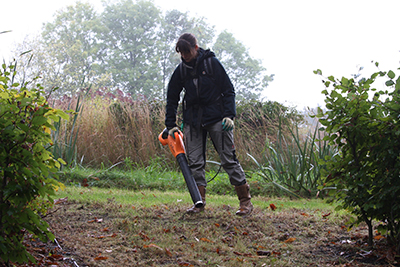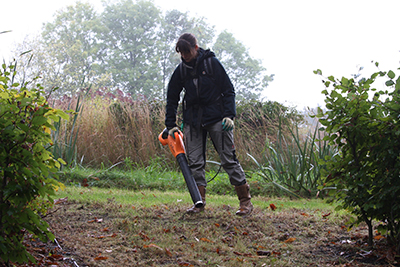 Alaster Anderson Specialist Gardeners, a London-focused soft landscaping and garden maintenance company, has purchased a range of environmentally friendly battery-powered Pellenc products.
The purchase includes two grass strimmers, two hedge trimmers, two blowers, long reach hedge cutter and chainsaw – all powered by four ultra-lithium batteries, which provide a constant power, giving the contractor up to a full day of work depending on the type of tool used.
Senior Horticulturalist Natalie Nixon first heard of Pellenc three years ago whilst working at RHS Wisley, where the products are also extensively used. "I was very impressed with the Pellenc products I had used at Wisley, so when I joined here, it was only natural I recommended them when a customer said he wanted to use 'green' maintenance equipment where ever possible."
Natalie's priority is a six acre private garden in North London where she spends 3-4 days each week, which was designed by Christopher Bradley-Hole and is based on the concept of field patterns. "We have a lot of grasses, perennials and hedging made up of maple, beach and hornbeam which all require a lot of on-going maintenance."
Hedging can take anything up to six weeks of the year, which is generally at the end of July and the beginning of August. "What I find really good when we have to cut the hedging is how quiet all the machinery is. I know our client doesn't like to hear the noise of petrol-powered tools, so using the Pellenc equipment ensures it's so much quieter not just for the client and neighbours but also for us as the users as well It means that we no longer have to use ear defenders which can sometimes be restrictive."
Natalie particularly likes the four-speed selector on the Helion hedge cutter, Excelion grass strimmer and Airion blower: "I like the fact that you are able to work at variable speeds, which are really easy to adjust to the correct working speed, rather than just on or off. For what we do here, this technology is perfect as you have a lot of control and get a really good finish."
In the last five years, Pellenc has gained market recognition by offering a unique range of 'zero emission' battery-powered handheld tools, thanks to the development of Lithium-ion ultra-high performance batteries. This technology, which is exclusive to Pellenc, allows for a drastic reduction in the production of greenhouse gases and noise pollution. It is also comfortable for users, meets new sustainable development demands and offers excellent economic profitability.
Another benefit that Natalie likes is that the battery pack is harnessed to the users back, which she explains makes the machines simpler to use and easy to handle.
"With the amount of adjustments that can be made on the harness, the machines are ideal for quality work. I used to struggle with petrol hedge cutters and that can really affect the quality of the cut. I found that I was getting tired by the end of the day and began to drop the blade, but it's now a distant memory since we've switched to Pellenc.
Pellenc is exclusively distributed in the UK by Etesia UK.
For further information, please contact Etesia UK on 01295 680120 or visit www.etesia.co.uk
For more news, reviews and insightful views, you can follow Etesia UK on Twitter @EtesiaUK and like the company's Facebook page – www.facebook.com/EtesiaUK. You can also view the latest Etesia videos by visiting www.youtube.com/EtesiaUK including hearing what Natalie says.
https://www.etesia.co.uk/wp-content/uploads/2017/10/IMG_4299.jpg
267
400
etesiaadmin
http://etesia.co.uk/wp-content/uploads/2017/07/etesialogo.png
etesiaadmin
2014-03-12 13:58:51
2017-10-10 13:59:12
Landscape Contractor Chooses Pellenc for Quiet Garden Maintenance