Own an Etesia Hydro 80 for just £35 per week with 0% interest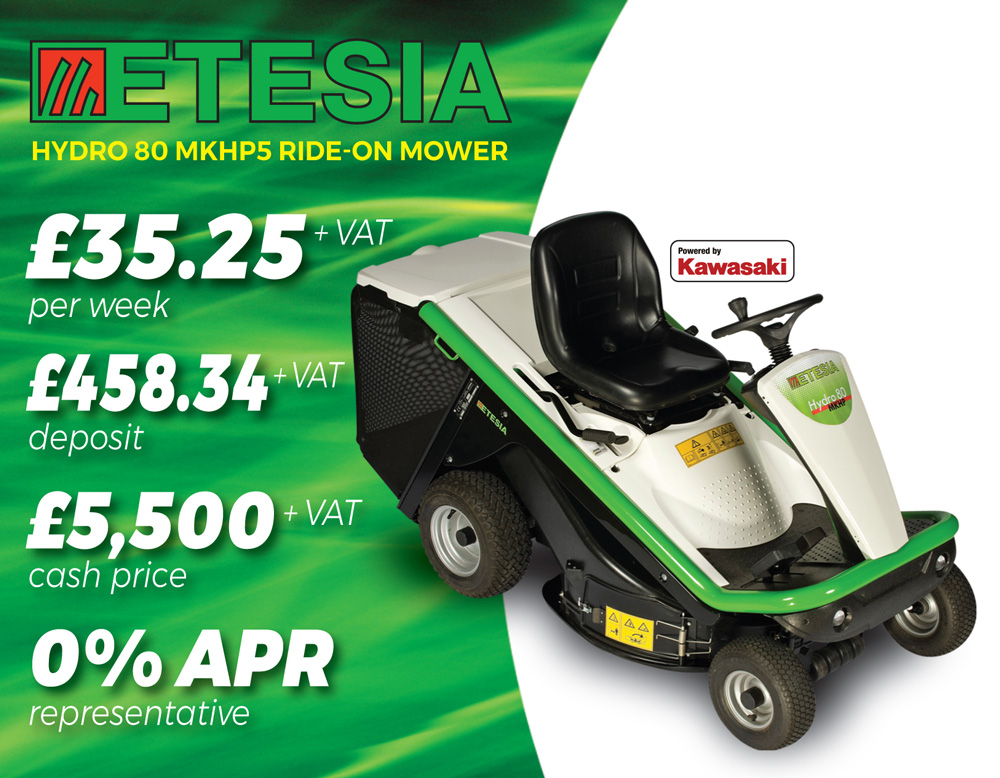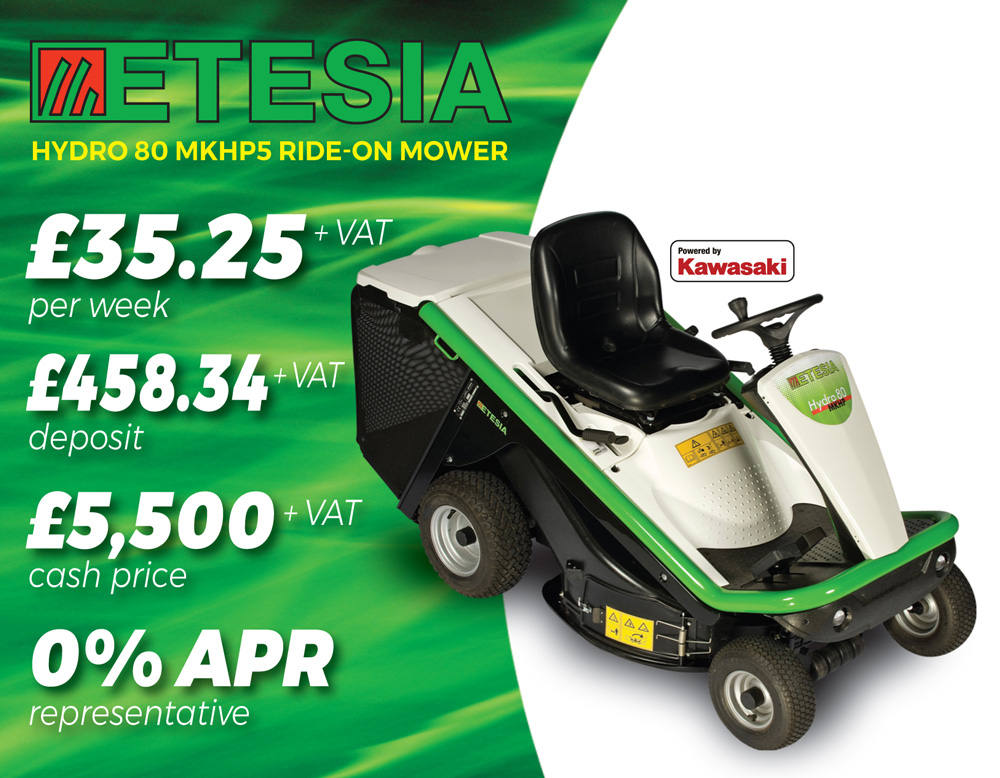 Etesia UK has announced a 0% interest finance option to allow customers greater flexibility when purchasing a new Hydro 80 MKHP5 ride-on mower.
Customers looking to purchase a new Etesia Hydro 80 MKHP5 can benefit from three years' interest-free finance, two-year commercial warranty, with payments as low as £35.25+VAT per week before the 30th November 2020.
Etesia UK's Managing Director Les Malin commented: "We have looked at the best way to help our customers. In these uncertain times, finances are under pressure more now than ever, but that doesn't change how vital it is to have the correct grass cutting machinery which is built to do the job and last. We are confident that this new finance option will allow customers greater flexibility with their finances, while still able to purchase new equipment."
The Hydro 80 MKHP5 can cut and collect in all conditions with the added benefit of a differential lock. The new model joins the popular Hydro 80 range and will give operators extra traction and stability on difficult, uneven and undulating terrain by reducing wheel spin, reducing damage to the grass and aid in cutting presentation.
The versatile mower also benefits from a mulching insert included as standard. The 80cm cutting width, 240 litre collecting box and impressive Kawasaki FS481H 11.7 kW engine give it the cutting performance and raw power to impress while operating.
Thanks to a range of additional accessories including a snow plough, users are able to extend the versatility of the machine so that it is ready for any scenario 365-days-a-year.
The Hydro 80 MKHP5 cuts and collects both long and short grass – without clogging.
As with all Etesia machines, the Hydro 80 MKHP5 ride-on mower comes standard with a comprehensive two-year commercial and three-year domestic warranty.
Finance is for business users only, subject to acceptance by Etesia UK's finance partner Golf Finance Limited and only available in the UK.
Terms and Conditions:
Finance for business purposes only. Actual finance rental payable on Etesia Hydro 80 MKHP5 is 3 + 33 Monthly instalments of £152.78 + vat per month. Subject to acceptance and affordability checks. Applicant must be 18 or over. Promotion valid until 30th November 2020.
Available on new equipment only. The finance products offered under this promotion are Finance Lease and Hire Purchase. For Finance Lease, VAT is due with each rental payment. For Hire Purchase, full VAT is due on signing. An option-to-purchase fee of £10 (plus vat) will be collected with the final payment. Terms and Conditions apply. Images are for illustrative purposes only. Etesia UK Ltd is regulated by the Financial Conduct Authority (FCA) reference 706544. Finance Agreements are arranged through Golf Finance Ltd who is registered with the FCA reference 674245. 0% Finance. 3+33 payments from £152.78+VAT per month. Supply cost £5,500 + VAT. 0%APR. Option-to-purchase fee £10 + VAT. Total amount payable £5,510 + VAT. Example shown for Etesia Hydro 80 MKHP5.