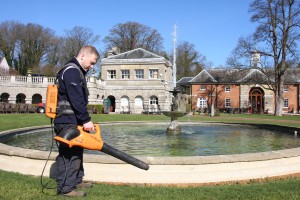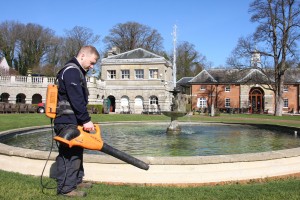 The Royal Automobile Club Estate Manager Eric Olson and Head Gardener Andy Pearson are two men aiming to make the Club in Surrey as environmentally friendly and efficient as possible, with the purchase of a range of Pellenc battery-powered tools.
Andy, who has been at the Club for 15 years, and his team of three gardeners, who are seen as an extended arm of the 20 strong greenkeeping team, look after all the footpaths, watering of plants, hedge cutting, planting as well as both hard and soft landscaping on the estate. He was looking at purchasing environmentally-friendly equipment that could be used around the clock whilst also improving productivity and cutting operating costs.
"Eric came to me and said I've found the solution," said Andy. "We researched the Pellenc equipment and attended a demonstration day, organised by Surrey Power at Merrist Wood College. We were so impressed that we decided to purchase an Airion blower, Helion hedge cutter and Cultivion power hoe with two batteries."
The purchase of the equipment means that Andy and his team can work around the clubhouse whilst keeping noise to a minimum. Because of the huge flower beds at the prestigious Club, and the requirement to minimise the use of weed suppressants, the power hoe made perfect sense. "Weed suppressants are so expensive so this product means we can have a 'green' machine while saving costs on fuel and chemicals."
In the last five years, Pellenc has gained market recognition by offering a unique range of 'zero emission' battery-powered handheld tools, thanks to the development of Lithium-ion ultra-high performance batteries. This technology, which is exclusive to Pellenc, allows for a drastic reduction in the production of greenhouse gases and noise pollution. It is also comfortable for users, meets new sustainable development demands and offers excellent economic profitability.IMG_5612
"We start work at 5:00am and as we work in close proximity to the main clubhouse, we have to be quiet. It's not just about being environmentally friendly but also being quiet to ensure members staying are not disturbed. The batteries are also a lot lighter than our petrol equipment and we are now working with less fumes too – it all adds up to less fatigue for the operatives."
Andy particularly likes the four-speed selector on the Helion hedge cutter and Airion blower: "I like the fact that you are able to work at variable speeds which are easy to adjust to the correct working speed. For what we do here, this technology is perfect as you have a lot of control and get a really good finish, whilst being extremely versatile."
Pellenc is exclusively distributed in the UK by Etesia UK.
For further information, please contact Etesia UK on 01295 680120 or visit www.etesia.co.uk
For more news, reviews and insightful views, you can follow Etesia UK on Twitter @EtesiaUK and like the company's Facebook page – www.facebook.com/EtesiaUK. You can also view the latest Etesia videos by visiting www.youtube.com/EtesiaUK.
https://www.etesia.co.uk/wp-content/uploads/2017/10/IMG_5738.jpg
200
300
etesiaadmin
http://etesia.co.uk/wp-content/uploads/2017/07/etesialogo.png
etesiaadmin
2014-12-16 09:46:35
2017-10-11 09:51:11
Pellenc Keeps it Quiet at The Royal Automobile Club