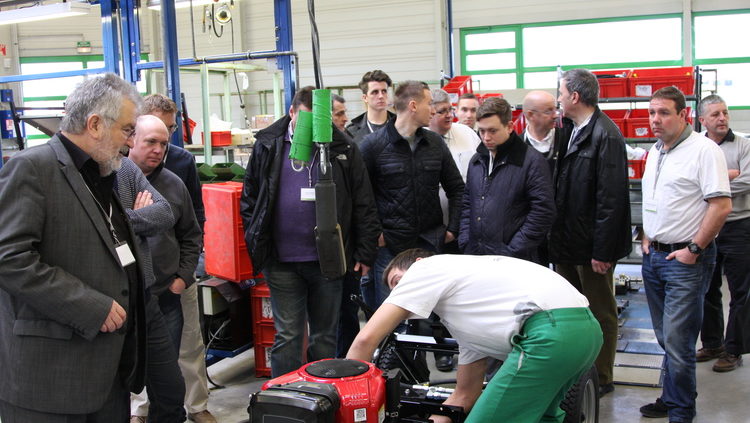 .
Etesia rounded of another successful year by inviting a group of UK dealers to its Wissembourg headquarters in France to provide an insight into the past, present and future of the grass cutting machinery giants.
Etesia Factory visitPatrick Vives, President of Etesia, kick-started the two-day trip by relaying the history of the company and the intriguing story as to how it all began. Attendees were then delivered a presentation on the advances in technology, a sneak preview of the new products which will be launched in 2015, followed by a tour of the impressive, state-of-the-art factory before being given the opportunity to get hands on with some of Etesia's machinery.
A hearty lunch complimented by some delightful local wine ensued as the group had time to muse on the Etesia experience.
Daniel Evans, from Myrddin Garden Machinery in South Wales, who was particularly keen to learn more about the company, felt that the tour had provided him with a firm understanding of Etesia which in turn would be of great benefit to both companies.
"We are a fairly new dealer for Etesia and we have come here to learn more. They've always had highly regarded products and they're renowned for an excellent wet weather cut and collect range – which is perfect for our area.
"The factory tour has been excellent because I've got a much better feel of the plans of the company and I've always been a firm believer that you need to know the manufacturer plans. As a dealer for Etesia we need to understand one another and move in the same direction and I'm confident that following this trip both of us will benefit. We hope that we can develop the Etesia franchise into something great," he said.
Webster Power Products, based in Scotland, are entering their second season as an Etesia dealer, and managing director Murray Webster noted that it would not only be him who benefitted from the factory tour but also his team.
"We are still very much learning about Etesia and this has been great because I can get all the information from the trip across to the rest of the team; especially the unique selling points which we can then relay to our customers.
"This is my first time to the factory and it's been fantastic – it's been good to talk to other Etesia dealers, good to see new products and I feel that this tour has really helped us get on the same wave length as the company."
Echoing Murray's thoughts was Andrew Meeks from Balmers GM in Lancashire who have been an Etesia dealer for two years. After joining the Burnley based company six months ago, Andrew welcomed the opportunity to gain a greater insight into Etesia.
"It's been great to explore the products, to see how they are made and learn the philosophy behind the company. It's quite clear that they are leading manufacturers committed to bringing innovative products to the market and I'm really impressed," he said.
After the factory tour, the group then had some free time to wander around the picturesque town of Wissembourg. The trip was concluded with an evening visit to the luxurious Royal Palace, Kirrwiller, which saw everyone enjoy live music, acrobats, knife throwing and other enchanting entertainment
https://www.etesia.co.uk/wp-content/uploads/2017/10/Etesia-Factory-visit.jpg
500
750
etesiaadmin
http://etesia.co.uk/wp-content/uploads/2017/07/etesialogo.png
etesiaadmin
2015-01-09 09:54:51
2017-10-11 09:55:21
Etesia dealers enjoy insightful trip to french headquarters