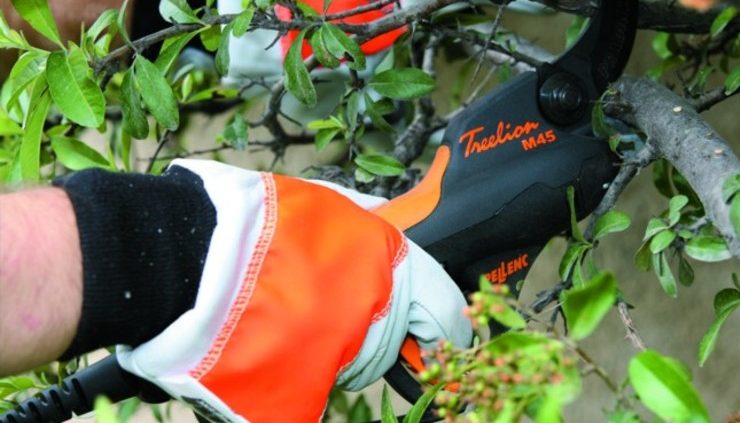 Pellenc offers a range of pruning shears for professionals looking for power, cutting diameter and productivity, with an unrivalled cutting quality.
The primary characteristic of the Treelion pruning shears is the ability to operate in continuous controlled mode, for precision work, or in pulsed mode (full or half-open) for quicker cutting.
Treelion is fitted as standard with a Pradines cutting head – the world benchmark in terms of quality.
The patented double trigger system allows the operator to switch from intermediate opening to wide opening, with a single press, to increase the speed and ease of use.
This range of pruning shears is sold as standard with the 200 battery or with a kit for connecting to another Ultra Lithium Battery. Treelion is available in several versions: A traditional handheld model and several two-hand and pole models for work in dense vegetation or at distance.
As with all other Pellenc products, the Treelion benefits from the ultra high capacity technology of the ultra lithium battery and guarantees non-polluting operation and a record operating range.
Lixion: The Lightest electric pruning shears in the World!
The fastest and lightest electric pruners in the world with a record cutting capacity!
Pellenc has designed the most powerful pruning shears, allowing vineyards to prune precisely, quickly and for up to three days.
The Lixion are ergonomic pruning shears that combine both power and speed. They are the most compact and the lightest on the market. Fully continuous, with a blade opening of 53mm, they adapt perfectly to your chosen cut. Pellenc offers two types of Pradines blades specially designed for the Lixion: The classic blade for large cuts and the feather blade for smaller crowns.
Lixion offers the renowned reliability and is a benchmark in the viticulture sector providing a three year guarantee on the motor and battery, whilst most competitors only offer two years.
Its growing presence in the market and continued customer satisfaction strengthen its image as an unrivalled market leader. The lithium-ion battery acts extremely naturally and combines the movements and the posture of the cut perfectly.
Thanks to the operating range display, you know exactly the remaining capacity of your battery and can decide on the most convenient time to recharge it.
Treelion tree pruning shears video

Lixion Evolution Vine pruning shears video

https://www.etesia.co.uk/wp-content/uploads/2011/07/pellenc_pruning_shears_top_1.jpg
497
740
etesiaadmin
http://etesia.co.uk/wp-content/uploads/2017/07/etesialogo.png
etesiaadmin
2011-07-19 08:36:31
2011-07-19 08:36:31
Treelion: The fastest and most powerful pruning shears on the market!