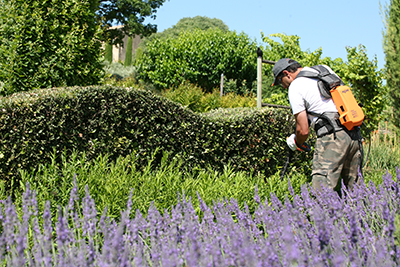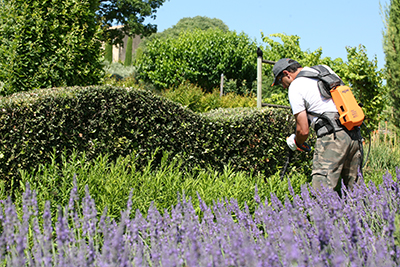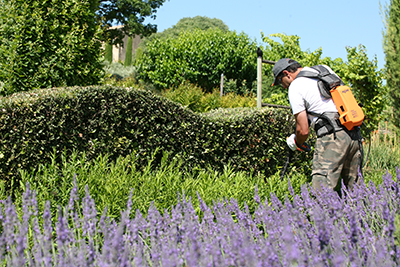 As part of Sherratt Landscapes commitment to reducing its carbon footprint, the commercial grounds maintenance company has purchased a range of Pellenc battery-powered equipment from local dealer Morris's Stores.
The new machines, including a range of Airion blowers, long handle and telescopic handle Helion hedge cutters, Excelion 2000 'cow handle' brushcutters and all powered by a range of Lithium-ion batteries are already showing significant savings in fuel expenditure and also considerable environmental advantages.
Choosing the Pellenc equipment for work on the numerous MOD, NHS and school sites which the company has recently won maintenance contracts for was another major reason for purchase, as Managing Director Craig Stockton explains:
"We chose Pellenc products because they fit in well with our ISO accreditations and minimise our carbon footprint, whilst also allowing our operators to work in noise sensitive areas. Normal petrol strimmers are very noisy and we were previously setting off fire alarms on one site in particular, so had to strim by hand, which was very labour intensive. Since, we've switched to Pellenc; we've been able to strim quickly, efficiently with virtually no noise and no smoke or fumes.
"I first came across Pellenc after reading what some other users were saying and decided Pellenc was the way to go after looking at other battery powered equipment. The other manufacturers did not offer the same battery life span that Pellenc had to offer – we can comfortable cut hedges all day long on a single charge, which would have been impossible with the other brands."
In the last five years, Pellenc has gained market recognition by offering a unique range of 'zero emission' battery-powered handheld tools, thanks to the development of Lithium-ion ultra-high performance batteries. This technology, which is exclusive to Pellenc, allows for a drastic reduction in the production of greenhouse gases and noise pollution. It is also comfortable for users, meets new sustainable development demands and offers excellent economic profitability.
Another benefit Craig likes is the four speed power settings on the tools, which enable users to select the power to use depending on the work required: "I like the four power settings which means if we are out leaf blowing, for instance, you can select the power to use depending on the amount of leaves there are or if you are close to buildings or cars.
"Innovation wise we are always looking for the next big thing and I think Pellenc is definitely the next big thing."
Pellenc is sold exclusively in the UK by Etesia UK.
For further information, please contact Etesia UK on 01295 680120 or visit www.etesia.co.uk
https://www.etesia.co.uk/wp-content/uploads/2017/10/sherratt-landscapes.jpg
267
400
etesiaadmin
http://etesia.co.uk/wp-content/uploads/2017/07/etesialogo.png
etesiaadmin
2014-07-06 15:07:56
2017-10-10 15:08:22
Sherratt Landscapes Go Green with Pellenc