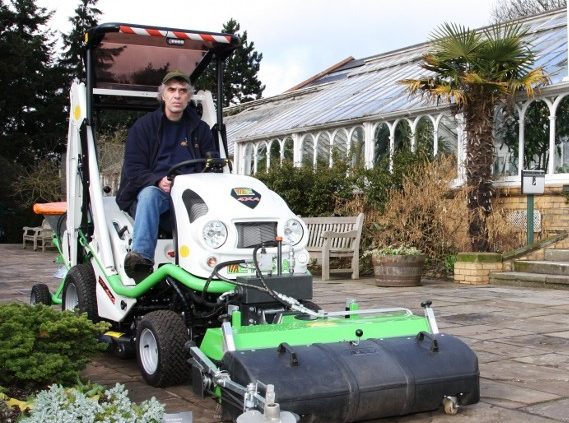 Spring is traditionally the time to clean up paths, roadways and hard surfaces and pick up fallen leaves and twigs from grassed areas in preparation for the summer. Since this is a seasonal job, it makes cost effective sense to take advantage of multi-functional equipment – especially in the current economic climate when budgets are tight.
With economy in mind, Etesia has a wide range of attachments which enable their Hydro 124, Hydro 100 and Hydro 80 ride-on mowers to carry out many tasks – all-year-round. These machines can not only help spread precious funding; but also enable commercial end users to win new contracts.
One of the most popular accessories is the front-mounted sweeper for cleaning roadways, car parks, pathways, playgrounds and other hard surfaces. This attachment can be fitted to either the Hydro 100 or Hydro 124 models – turning a ride-on mower into a 365-days-a-year workhorse.
Powered by the ride-on's engine, and hydraulically driven via the PTO, the brush covers the full working width of the host machine. No special tools are required to fit the unit directly on to the mower's front-mounted linkage. The brush can also be angled left or right according to the mode or work.
The polypropylene bristles are extremely hard wearing and very tough to ensure a firm scrub on pavements and other hard surfaces where they efficiently remove grime, debris and moss. There is an optional side rotary brush for clearing awkward areas, such as gutters and gullies. All rubbish is swept into the optional collection box and there is a dust protector for use when the brush is used without the box.
When mowing grass, Etesia's ride-on rotaries offer commercial end users a unique anti-clog cutting and collecting system that provides outstanding performance, even in the wettest of conditions. The addition of attachments such as the sweeper transforms the lawnmower into a host power source to drive a multitude of turfcare and other equipment all year round.
For further information, please contact Etesia UK on 01295 680120 or visit www.etesia.co.uk
For more news, reviews and insightful views, you can follow Etesia UK on Twitter @EtesiaUK and like the company's Facebook page – www.facebook.com/EtesiaUK. You can also view the latest Etesia videos by visiting www.youtube.com/EtesiaUK.
https://www.etesia.co.uk/wp-content/uploads/2017/10/spring-clean-with-etesia.jpg
533
569
etesiaadmin
http://etesia.co.uk/wp-content/uploads/2017/07/etesialogo.png
etesiaadmin
2016-09-06 00:28:23
2017-10-13 00:28:47
Spring Clean with Etesia