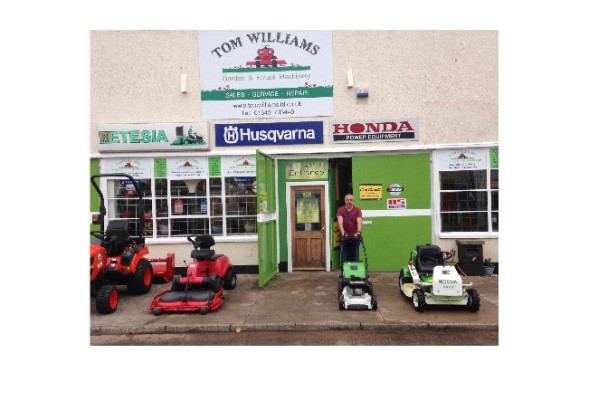 Etesia UK has added to its ever-growing network of dealers after announcing two new dealerships for Somerset and Northumberland.
Etesia has been leading the way in building high quality grass cutting machinery for both the professional and domestic market since 1989. Over the years the company has grown rapidly and now offers a wide range of products that include a variety of walk-behind, ride-on mowers and the popular Attila range of brush cutters.
With the products in such high demand, Etesia boasts a large dealership network who all provide their customers with innovative solutions to their landscaping requirements. The company has also become a key supplier to local authorities and landscape contractors throughout Europe, and it is for this reason that new dealer Northumbrian Garden Machinery decided to join the vast network.
"We wanted to work with Etesia because we needed a product that was a commercial brand," said managing director George Aspin. "I first came across Etesia at a previous SALTEX exhibition and then I spoke to a few other dealerships who said that the products were really popular.
"Then by chance, a contractor came in looking to replace his Etesia pedestrian mower and that's when I saw an opportunity."
George seized the opportunity and will now sell, service and repair the vast range of Etesia products from his showroom and workshop in Alnwick. A local family business covering Northumberland and the Scottish Borders, Northumbrian Garden Machinery mainly caters for the domestic user.
However, George is seeing an increasing amount of business in the commercial market, and he believes he now has the perfect brand to meet their requirements.
"The Etesia products come with a three year warranty and they're the Aston Martin of lawn mowers. They are well designed, stand out above the competition and they sell themselves really," he said.
Tom Williams Garden & Estate Machinery, previous winner of New Etesia Dealer of Year, has also returned to the dealership network after a short absence. Established in 1997, the company specialises in sales, hire, repairs and servicing of garden and estate machinery. Owner Tom Williams is looking forward to building upon a successful first spell.
"It's good coming back into the Etesia camp after being away for a little while. I've always liked the products as they do exactly what they say they will do and will cut and collect in any condition – that's what makes them stand out for me.
There are a lot of products that are all in the same ball park in terms of price but you could argue that the Etesia products are a lot better than the rest out there.
"Certainly, what we've found is that the customers who have bought them previously will buy the same products again – they're that good."
For further information, please contact Etesia UK on 01295 680120 or visit www.etesia.co.uk. You can also follow Etesia on Twitter @EtesiaUK for much more news, reviews and insightful views.
https://www.etesia.co.uk/wp-content/uploads/2017/10/etesia1.jpg
420
608
etesiaadmin
http://etesia.co.uk/wp-content/uploads/2017/07/etesialogo.png
etesiaadmin
2015-11-25 06:26:14
2017-10-13 06:26:32
Two new dealerships added to Etesia UK