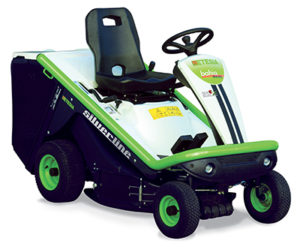 For the past 25 years, innovation has been the key to Etesia's success. During this period the company's research and development department have constantly manufactured a series of innovative machines that have revolutionised green space maintenance and taken the company from success to success.
The exclusive concept of mowing and collecting, in all conditions for both pedestrian and ride-on machines, has been the company's mantra for the entire time along with making the lives of customers easier.
Manufacturing products to the satisfaction of customers that are simple to use yet extremely durable with an after sales support from carefully selected dealerships and distributors who perform and are committed, has been part of the Etesia philosophy on building a successful network.
The first business in the green space management market to achieve IS 9002 in 1994 and IOS 9001 in 2001, along with the first manufacturer to launch a 100% electric ride-on mower with a cut and collect facility confirm Etesia's obsession with quality.
Today, Etesia exports 50% of its production, a large percentage of which comes to the UK. The company is now an important cog in the range of equipment that many machinery dealers have chosen to offer their customers, and more importantly, more and more users from large landscape contractors and councils to small landscape businesses are specifying Etesia as their machinery of choice.
In celebration of their 25th anniversary, Etesia will be launching a range of exclusive 'Silverline' promotions including a special Bahia Silverline limited edition model.
The first promotion is for Bahia, Hydro 80, SKD ride-on brushcutter and the ETM44 robotic mower models which will see customers receive a 15% discount on the RRP.
The second promotion for large ride-on machines (100cm+) will see customers receive over £3,500 off some models.
| | | |
| --- | --- | --- |
| Model | Recommended Retail Price | 'Silverline' Price |
| H124DX | 24673.00 | 20990.00 |
| H124DN | 22892.00 | 19490.00 |
| H124DS OHD124 | 20326.00 | 17250.00 |
| H124DS | 17846.00 | 14990.00 |
| HVHPX | 15590.00 | 13250.00 |
| HVHP | 14650.00 | 12450.00 |
| HVSP | 13190.00 | 11200.00 |
| H144MX | 19295.00 | 16390.00 |
| MVEHHN | 8790.00 | 7000.00 |
https://www.etesia.co.uk/wp-content/uploads/2017/04/Etesia-Silverline-Model.jpg
329
400
etesiaadmin
http://etesia.co.uk/wp-content/uploads/2017/07/etesialogo.png
etesiaadmin
2017-04-24 04:03:13
2017-04-24 04:17:06
Etesia Celebrates 25 Years with Exclusive 'Silverline' Promotions