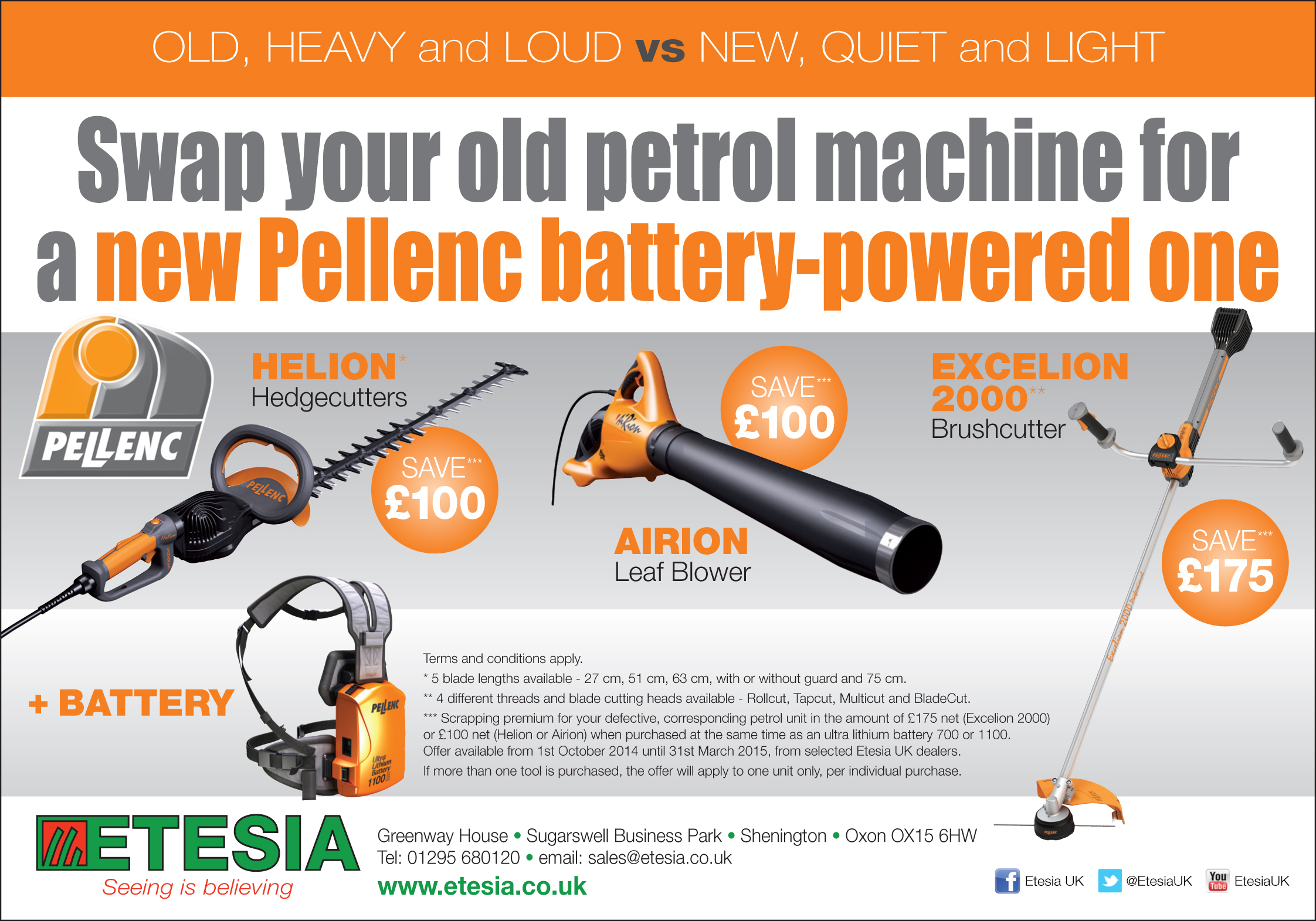 Etesia UK has announced a special offer which will enable anyone to trade in their old petrol machine which can be used as a cash discount on a brand new Pellenc battery-powered model.
This special offer will allow you to swap your old petrol chainsaw, hedge trimmer or brush cutter for a brand new Helion hedgecutter (£150 discount), Airion leaf blower (£150 discount) or an Excelion 2000 brushcutter (£175 discount).
With no more starting problems, no more filling of a petrol tank; your old machinery will belong in the past with these new light, odourless and noise-free machines.
Layout 4 (Page 1)Then there are the fuel savings to consider. 3,000 litres of fuel costs on average £3,900 and using, on average, five litres per day will last 600 days costing an average of £6.50 per day. A Pellenc battery is priced at just £1,200 and will last a minimum of 1,200 charges while costing just 85p per day!
Pellenc's zero emission concept offers a full range of truly professional handheld power tools are powerful, silent and emission-free thanks to the lithium-ion technology and 'brushless' electric motors which are patented to the company.
These environmentally-friendly tools are now offered with a three year commercial warranty as standard – the first manufacturer to offer this.
Employing 1,150 people, Pellenc has 15 subsidiaries in France and further afield with a presence in 50 countries. 800 distributors take care of over 50,000 customers worldwide. In the UK, Pellenc tools can be seen in every major city, as well as the majority of national trust sites around the country.
This special offer begins on 1st October 2014 and will end on the 31st March 2015. Terms and conditions apply.
Pellenc is sold exclusively in the UK by Etesia UK.
For further information, please contact Etesia UK on 01295 680120 or visit www.etesia.co.uk to view your nearest participation dealer.
For more news, reviews and insightful views, you can follow Etesia UK on Twitter @EtesiaUK and like the company's Facebook page – www.facebook.com/EtesiaUK. You can also view the latest Etesia videos by visiting www.youtube.com/EtesiaUK.
https://www.etesia.co.uk/wp-content/uploads/2017/10/Pellenc-Offer-Photo.jpg
1571
2244
etesiaadmin
http://etesia.co.uk/wp-content/uploads/2017/07/etesialogo.png
etesiaadmin
2014-09-18 09:23:20
2017-10-11 09:27:58
Etesia UK Announce Pellenc 'Out with the Old, In with the New' Promotion