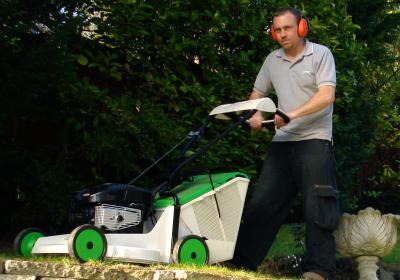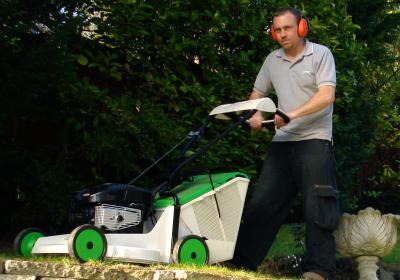 The upkeep of domestic and amenity turf is a huge source of business for Surrey based contractor Bates Garden maintenance. Reliability of mowing equipment is essential for this work. The contractor, who works across Woking, Guildford and the rest of the Surrey area has the Etesia Pro 46 to handle part of the weekly cutting routine.
Professional end users looking for a rugged pedestrian mower designed to withstand the rigours of commercial use, need look no further than Etesia's range of pedestrian mowers. Terry Bates, MD of the contracting company explains: "We mainly use the Pro 46 on domestic and commercial jobs where there are groups of lawns that are on different levels, terraced, up steps or on slopes of which there are a few we maintain. We always use the pro 46 when we have laid a new lawn and it's time for the first cut because it is light enough to not 'pull' any joints apart and always gives a sharp looking cut".
Pro 46 rotaries are lightweight and easy to transport, making them ideal for use with mobile grass cutting teams. Handlebars adjust for operator comfort and fold for storage and transportation. The cutting height adjustment on each wheel provides a range of settings to suit most applications.
"We use the mower every week to maintain the gardens on a private residential road one day a week. All the rear gardens are terraced into a hill with lawns level with the roofs of the houses which is hard work but the pro 46 has helped massively.
"The pro 46 is well built, solid and reliable. We do own other mowers that fit that description but none we enjoy using as much".
The single blade Etesia Pro 46 has a 5hp 160cc Honda petrol engine. Cutting width is 46cm, the detachable grass box with 'full' indicator has a capacity of 52 litres, and overall weight is just 37kg. Low vibration and noise levels meet all EU legislation and individual wheel height can be adjusted from 25mm to 88mm. There are six models in the range, with options including a mulching facility.
https://www.etesia.co.uk/wp-content/uploads/2012/05/bates.jpg
280
400
etesiaadmin
http://etesia.co.uk/wp-content/uploads/2017/07/etesialogo.png
etesiaadmin
2012-05-15 00:32:41
2012-05-15 00:32:41
Etesia's Pro 46 – the professional's choice