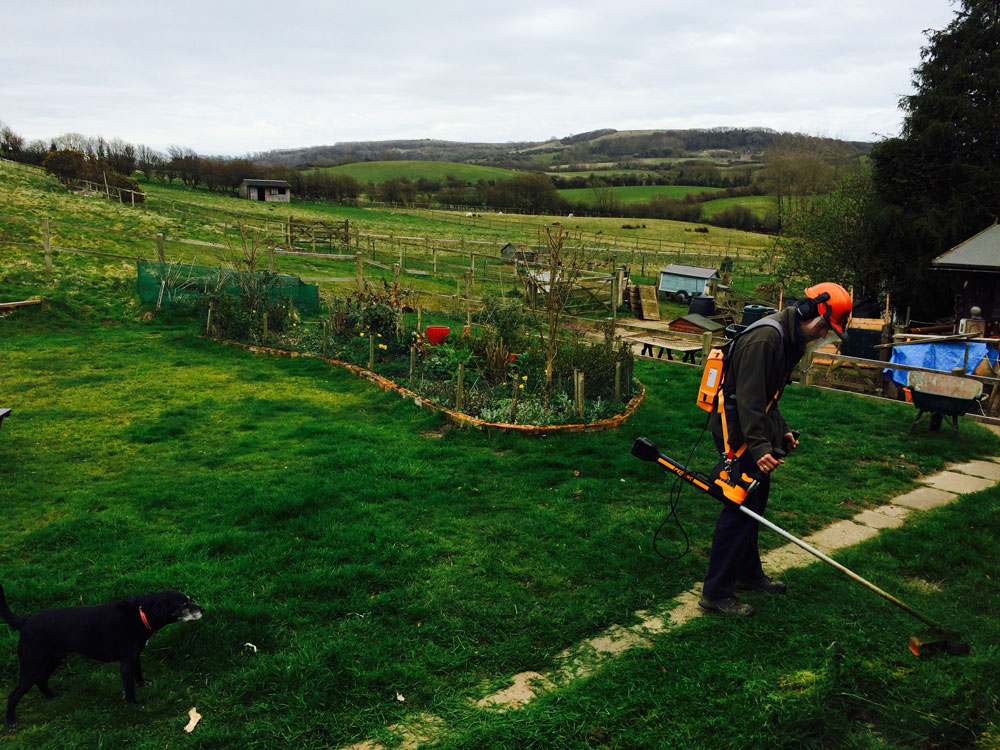 Doug McGeoch, owner of McGeoch's Gardening Services, is the proud and first new owner of a range of Pellenc battery powered tools on the Isle of Wight.
Over the past two years Etesia UK, the exclusive UK distributor of Pellenc equipment, has reported a dramatic increase in Pellenc sales with over 50 dealers now stocking the powerful, battery powered equipment. The popularity of the Pellenc range continues to spread and Doug's new tools now signals the first of potentially many more sales on the Isle of Wight.
Doug, who undertakes most aspects of horticulture through his successful business, revealed that he had been considering taking the plunge and switching from petrol to battery powered equipment for quite a while.
"I first heard of Pellenc through their dealer C&O Tractors back in 2012. I was given a brochure and was told that it was the best of its kind. I was marginally interested at the time and then over the past years everything seemed to be become more 'greener'. Then, last year my petrol powered strimmer packed in. On top of that I was getting fed up with starting it all of the time and that's when I thought it was time to switch to the battery powered equipment.
"So I went to see C&O Tractors again who let me trial some of the products and I was so impressed that I purchased six pieces of equipment."


Doug's impressive range of Pellenc products includes the telescopic Selion polesaw, the Selion M12 chainsaw, the Helion hedge cutter, the Excelion 2000 brushcutter and the Airion blower – which are all powered by his 1100 Ultra Lithium battery.
This revolutionary battery can be used to operate any tool from Pellenc's tool range and not only can it allow the user to work for a full day on a single charge but it also provides ultimate comfort through the carrying harness which effectively and evenly distributes the weight of the battery.
With his significantly lighter equipment, Doug has certainly noticed a difference.
"I was getting repetitive strains in my right elbow and all the heavy work over the years had taken its toll – I needed to do something about this to prolong my ability to work. The Pellenc equipment is great for this because it is considerably lighter and you don't have to worry about starting engines all of the time. Pull-starting engines can be very temperamental and it is this pulling motion which has affected my arm over the years.
"Another benefit is that I can operate the equipment in a quiet area without making any noise which is something that my customers have noticed – I can now start work nice and early without waking anybody up! It's also so much easier when a customer may come and speak to me. I can leave the harness on and simply take my finger off the trigger. There's no stopping and starting engines and when I have finished the conversation, I pull the trigger and off I go again.
"No fumes is a bonus too – there's nothing worse than having a cloud of blue smoke coming out of a two stroke engine and choking you. This is particularly useful when using the hedge cutter because the machine is quite close to your face. With the Pellenc hedge cutter you no longer have to worry about this."
"A big selling point for me is that one battery has a lifespan which is the equivalent of using 4,500 litres of petrol. So even though it was quite a bit of money upfront to buy the battery, it's still a lot cheaper than the amount of petrol I'd be using. It's definitely far more cost effective in the long run."
Having never needed to advertise, Doug finds himself with a packed schedule every week – which certainly is testament to his high standard of work. A large portion of Doug's work sees him mowing lawns and as a result he uses his Excelion 2000 brushcutter, on average, five times a day to go round the gardens and tidy the edges. In the summer months, Doug points out that he gets a lot of use out of the Helion hedge cutter and in autumn he relies on the Selion M12 chainsaw for pruning and the Arion blower for clearing the leaves.
So, as it becomes more and more clear that we've perhaps reached a new age of outdoor power equipment, does Doug feel that he has had to make any compromises in achieving smoother, lighter, noise-free operations which are better for the environment?
"People say to me that batteries are not as powerful as the petrol ones. Well I'd say no that is not the case, this range of equipment is extremely powerful – if not more powerful.
"I think that green technology is the future and the idea is to stop using the hand held petrol equipment completely. Towards the end of the year I plan to purchase a battery-powered lawnmower and I know that Etesia or Pellenc will be the first place to look."
https://www.etesia.co.uk/wp-content/uploads/2017/04/pellenc-arrives-in-style-on-the-isle-of-White.jpg
750
1000
etesiaadmin
http://etesia.co.uk/wp-content/uploads/2017/07/etesialogo.png
etesiaadmin
2017-04-24 05:11:11
2017-04-24 05:11:26
Pellenc arrives in style on the Isle of Wight